Liu Xiaobo was recently awarded the Nobel Peace Prize, and China has once again shown us the ugly face of a totalitarian state.
Whether the choice of the Nobel committee will actually contribute to the promotion of democratic change in China remains an open question. International attention and pressure will hopefully be able to put an umbrella of protection over the individual dissident. But the drive for democratic change cannot reach its goal unless it is supported by the people.
Meanwhile, we should not forget that there are in the world many pro-democracy dissidents who have dedicated their lives to peacefully espousing democracy, freedom of speech, the rule of law, and the observation of human rights in the totalitarian countries of which they are citizens -- at great toll to themselves and their families.
Rude Awakening
I recently visited Baku, the capital of Azerbaijan. Baku is a city on the move, one massive construction site on the Caspian Sea where extravagant modern buildings line up along the sea front and new apartment blocks replace old residential quarters. Only the old part of the city has been refurbished carefully and provides some picturesque sights. It took me some time to realize that I was on the front line that separates the political establishment from the small minority of Azerbaijan's democratic dissidents.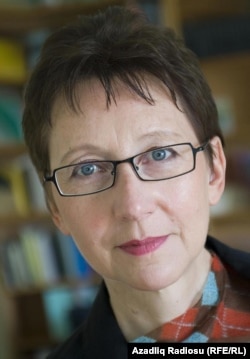 Christel Fricke
The front line? Isn't Azerbaijan a democratic republic? Constitutionally, it is, of course. But the constitution is one thing and the political culture and practice are something else. De facto, Azerbaijan is a totalitarian state with an almighty president at the top and political institutions that basically follow his orders.
All opposition is suppressed. There is no freedom of speech. There was no information in the official media about Nobel Peace Prize laureate Liu. There is no rule of law. Human rights are constantly violated.
Pro-democracy dissidents pay a high price: They only jobs they can find are working for international NGOs. If they dare to attract any public attention to their cases, they risk being jailed under accusations of espionage or hooliganism.
Since 2006 there has been a program of Scandinavian studies at the University of Languages in Baku. This program is funded by the Norwegian Foreign Ministry and is now organized by the University of Oslo. I recently went to Baku for 10 days to teach a course within this program.
While I was there, two young men were released from prison. The case of these two bloggers had attracted considerable international attention. As members of the democratic opposition, they had been beaten up and then, by some powerful but invisible authority, been transformed from victims into perpetrators: They found themselves accused of hooliganism. They were sentenced to 2 and 2 1/2 years in jail.
What upset the president was a video blog post of a fake press conference at which a donkey responds to questions concerning corruption in the country. Probably, the president misinterpreted this post and felt personally offended.
What finally brought the sentences of the two bloggers to an end (after more than 12 months in jail) was a second intervention by the president. Probably, he hoped to silence international criticism of the recent parliamentary elections for first suppressing any opposition campaigning and for then manipulating the vote count so that no independent candidate won a seat in parliament.
'The Right Life'
I had the opportunity to join in the celebration of the release of the two bloggers. The father of one of them is an old friend of mine. I shared his concern for his son. More than a year in prison had severely affected his health. But it was difficult to find a doctor who would treat him. Helping a democratic dissident can bring any doctor under scrutiny and expose him or her to difficulties.
Then my friend suggested that I ask my students in Baku what they knew and thought about the bloggers' case. Since official media had reported nothing about the affair, I initially thought it would be a good idea to raise the topic. But in the end, I didn't.
You see, I had been instructed not to discuss Azerbaijani politics in class.
At the moment that I failed to speak, I realized how close I was to the front line of the struggle for democracy and how hard it actually is to be there. At this most harmless moment, I nonetheless refused to take any risk. I was a visiting professor who had been told to keep out of local politics and not do anything that could provoke the authorities into shutting down the program. My friend was disappointed, but not really surprised.
Back in the 1950s, philosopher Theodor Adorno famously said, "There is no right life in the wrong one." But political dissidents in authoritarian societies are struggling every day to prove Adorno wrong. Liu Xiaobo shows us what it means to live in the right way under political conditions that are wrong.
And the pro-democracy in Azerbaijan are doing the same. We have to recognize them as heroes of the right life. They confront us with the real value of our own political freedom and teach us how much is missing in the lives of those who are denied it. They deserve our attention and respect.
Was it prudence or cowardice that caused me to remain silent when I had the chance to discuss my friend's son and bring his fight to the attention of my students in Baku? I really don't know.
But through the experience, I acquired a better understanding of the pressures that pro-democracy dissidents face. I can better understand what it is like to live on the front lines of the wrong life without any ticket of escape.
Living the right life inside the middle of the right is easy. I wonder whether if I had had the misfortune to be born in a country without freedom of speech or the rule of law or respect for human rights, I would have the courage to live the right life within a wrong one. But I know that Baku changed me.
Christel Fricke is director of the Center for the Study of Mind in Nature (CSMN) at the University of Oslo, Norway. The views expressed in this commentary are the author's own and do not necessarily reflect those of RFE/RL