French Defense Minister Arrives In Uzbekistan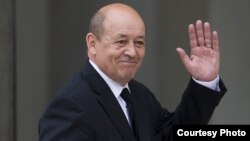 French Defense Minister Jean-Yves Le Drian traveled to Uzbekistan on July 16, where he held consultations with senior officials including President Islam Karimov.

Le Drian reportedly discussed the impending withdrawal of foreign forces from Afghanistan.

NATO forces plan to move troops and equipment through Uzbekistan as they return to Europe and the United States.

Former French President Nicolas Sarkozy had expressed concerns about the Uzbek route, saying the Uzbek government was demanding too high a price to transit its territory.

Le Drian and Karimov also discussed security issues in Central Asia after the withdrawal of foreign forces from Afghanistan, which is planned to be completed by the end of 2014.


Based on reporting by Fergana.ru and Uzbek state television