Lawyer Slams 'Flimsy' Case Against Georgian Accused Of Recruiting Chechens To IS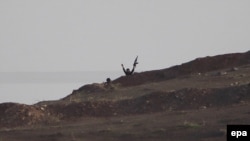 The lawyer for a Georgian national accused of recruiting two Chechen men to fight for the Islamic State (IS) militant group in Syria has slammed the charges against him as "very flimsy."
The man, 25-year-old Beslan Cincalashvili, allegedly resided legally in Chechnya from July through August 2014. During this time, he met with two Chechen nationals in Grozny and attempted to persuade them to travel to Syria to join militant groups. Investigators say he promised the men assistance with passports and in traveling to Syria via Georgia.
The Russian-language Caucasian Knot outlet quoted Cincalashvili's lawyer, Luiza Killayeva, as saying that the two Chechen men whom her client is alleged to have recruited approached Cincalashvili in a park in Grozny.
"When they started to talk, they began to complain that they were bored here, that there is no work and that they wanted to fight in Syria, and they asked how they could get there," Killayeva said.
Killayeva suggested that the two Chechen men had been "planted there specifically," and said that, if Cincalashvili had been involved in recruitment, he would have been suspicious when "those two lads started such a conversation half an hour after meeting [him]."
Cincalashvili, whose parents and two uncles live in Chechnya, moved to Grozny from Georgia about seven or eight years ago and worked in the construction industry, his lawyer said. It is not known which region in Georgia Cincalashvili comes from but his name and connections to Chechnya suggest he could be an ethnic Kist from the Pankisi Gorge.
-- Joanna Paraszczuk
About This Blog
"Under The Black Flag" provides news, opinion, and analysis about the impact of the Islamic State (IS) extremist group in Syria, Iraq, and beyond. It focuses not only on the fight against terrorist groups in the Middle East, but also on the implications for the region and the world.
​