Georgian Defense Minister Under Fire Over Conscription Decree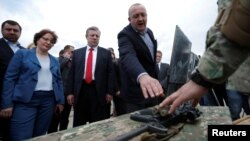 Georgian Defense Minister Tinatin Khidasheli has incurred criticism from representatives of the ruling Georgian Dream coalition for announcing without prior warning at a press conference on June 27 that conscription of young men to serve in the armed forces has been suspended as of 2017.
While the process of phasing out conscription in favor of a professional volunteer army has been under way for several years, both Prime Minister Giorgi Kvirikashvili and President Giorgi Margvelashvili responded with statements deploring the fact that Khidasheli jumped the gun in announcing a measure that, according to Kvirikashvili, should have been discussed beforehand by both the cabinet and the National Security Council.
The suspension of conscription will only apply, Khidasheli explained, to the induction of young men into the armed forces, but not to those who serve their 15 months' compulsory service in the State Protection Service, the State Security Service, the penitentiary system, or other agencies. Draftees currently account for just 10 percent of the total 37,000 manpower of the armed forces. They perform only logistical and support functions; they are not trained in, and do not engage in, combat.
The aim of switching to a wholly professional army by 2017 was announced in August 2014 by then-Defense Minister Irakli Alasania, who said that the 2014 fall draft would be reduced accordingly by 2,000 men.
Khidasheli likewise served warning in April that conscription into the army would cease as of 2017. Her stated rationale for ending conscription was twofold: first, that the armed forces do not need personnel who serve solely because they are obliged to do so, given that service is regarded as "prestigious" and there is no shortage of men who wish to serve on a contract basis; and second, that the abolition of conscription would serve the overall objective of bringing the Georgian Army closer to NATO standards.
The Jamestown Foundation quoted Irakli Aludashvili, editor of the military-analytical journal Arsenali, as warning that the transition to all-volunteer forces would necessitate additional expenditure.
But Armed Forces Chief of General Staff Major General Vakhtang Kapanadze says that in the long term, maintaining a professional army is less costly than the conscription model. Kapanadze positively assessed the end of conscription into the armed forces, stressing that the decision was discussed over a period of time and not "plucked out of thin air."
On signing the decree, Khidasheli did not rule out the possibility that a future defense minister could rescind it, while Irakli Sesiashvili (Georgian Dream-Democratic Georgia), who heads the parliament's Committee on Defense and Security, said Prime Minister Kvirikashvili is empowered to do so. On June 28, however, Khidasheli claimed it was impossible to annul the ruling, given that it was discussed by parliament and endorsed by the president.
Sesiashvili further attributed Khidasheli's announcement to "narrow party interests," meaning a bid in the run-up to the parliamentary elections scheduled for October 8 to boost the rating of the Republican Party of which she is a member. That party announced in late March that it will participate in the ballot independently, rather than as part of a broader Georgian Dream election bloc. A recent opinion poll showed popular support for the Republicans at under 1 percent.
About This Blog
This blog presents analyst Liz Fuller's personal take on events in the region, following on from her work in the "RFE/RL Caucasus Report." It also aims, to borrow a metaphor from Tom de Waal, to act as a smoke detector, focusing attention on potential conflict situations and crises throughout the region. The views are the author's own and do not represent those of RFE/RL.