What little suspense there might have been surrounding the
current antigovernment protests in Tbilisi
revolved around two grandiose ultimatums. One, that May 25 would witness an Arab-style "Day of Rage" that would culminate in the ouster of Mikheil Saakashvili. And two, that the resulting vacuum would be neatly filled by the return of one of Georgia's most notorious political figures, former Defense Minister Irakli Okruashvili, who has been living in France since fleeing the country in 2007 amid a highly public breakup with Saakashvili.
Both claims seemed headline-worthy but achingly improbable. And they were.
Today, the day-of-ragers, perhaps casting a disappointed eye over the rapidly shrinking crowds of protesters, stepped back from the brink, saying the "Day of Rage" would devolve back into a day like any other. And Okruashvili -- who faced certain arrest and uncertain popularity were he to return -- said he'd given it some thought and decided the time just wasn't right.
Was Okruashvili really thinking about coming back?
As you recall, the former defense minister was once an unshakeable Saakashvili ally and a favored member of the ruling elite, who was rumored to have been given a free hand when it came to budgets and defense acquisitions. But in September 2007, he used a live television interview
to level a string of stinging accusations against the president
, saying Saakashvili encouraged a culture of corruption and had even sought the liquidation of one of his political opponents.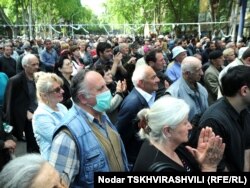 An opposition rally in Tbilisi on May 24
Okruashvili was arrested in short order and charged with his own laundry list of crimes -- extortion, money laundering, and abuse of office. After recanting his claims against Saakashvili, he was allowed to post bail and quickly fled for France, where he was eventually granted political asylum. He was convicted in absentia in 2008 and sentenced to 11 years in jail.
Since then, he has more or less patiently sat, leveling the occasional fresh claim against Saakashvili and waiting for an opportunity to return. But when you're a convicted felon and a mortal enemy of the president, travel is never as simple as flying into the Tbilisi airport. Instead, many in the Georgian capital were speculating that Okruashvili was planning to enter the country via his native South Ossetia, the breakaway territory that, together with Abkhazia, fell out of Georgian control following the August 2008 war with Russia.
Such a plan would allow Okruashvili to fly undetected into Tskhinvali and then cross without document checks or related fanfare into Georgia proper. But such a plan would also require the cooperation of Russia, the origin point for all flights into South Ossetia. (On May 19, Georgia's Rustavi-2 television reported Okruashvili had arrived in Moscow, a claim denied by his opposition Georgian Party.
Photographs released by Tbilisi-based Real TV
purporting to show Okruashvili and a colleague in a Moscow airport were later reported to have been doctored.)
Okruashvili has never been considered a fan of Russia's -- during Moscow's ban on Georgian wine and mineral water, he famously remarked that Russian consumers were so unsophisticated you could sell them excrement. But many in the opposition, including Nino Burjanadze, the driving force behind the current protests, have sought support from Moscow, which deeply wants to see the rambunctious Saakashvili in the unemployment line.
Is Okruashvili, biding his time in France, planning his next ultimatum?
-- Daisy Sindelar