Georgia's 'Opposition Six' Unveils Expanded Agenda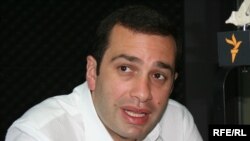 Leaders of the six parties -- the Republican, Conservative, and People's parties, the National Forum, the Free Democrats, and Georgia's Way -- unveiled their future strategy to a packed indoor baseball stadium in Tbilisi on July 8.
They said they now plan to expand on their original objective of amending the election law to remove the built-in advantages enjoyed by the ruling party. Their future goals are changing not just the election law, but the entire political environment, and securing a coalition parliamentary majority. At the same time, they made clear that Free Choice is not, and should not be regarded as, an election bloc. They nonetheless stressed their readiness to reach a "reasonable compromise" on ideological issues.
Both Free Democrats leader Irakli Alasania and Republican Party chairman David Usupashvili were quoted as affirming that "elections are won by a million votes, not by a million laris" -- an allusion to the controversial EEM proposal to allocate to all opposition parties that poll the minimum 5 percent of the vote required to win representation in the new parliament 1 million laris ($597,943) to cover their election campaign expenses.
Usupashvili accused the New Rightists and the Christian Democratic Movement, which had also taken part in the talks and accepted the most recent amendments proposed by the EEM late last month, of caving in to "blackmail" from the authorities, Caucasus Press reported on July 8.
About This Blog
This blog presents analyst Liz Fuller's personal take on events in the region, following on from her work in the "RFE/RL Caucasus Report." It also aims, to borrow a metaphor from Tom de Waal, to act as a smoke detector, focusing attention on potential conflict situations and crises throughout the region. The views are the author's own and do not represent those of RFE/RL.