Houses Come Down, Statue To Turkmen Leader Goes Up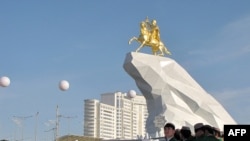 The crowning of moment of the Day of the City, May 25, in the Turkmen capital Ashgabat was the official unveiling of a gigantic statue of President Gurbanguly Berdymukhammedov.
At a time when the emphasis in Ashgabat has been on tearing down homes, the statue is one of the first structures to go up.
Azatlyk has been reporting on the home demolitions in the Turkmen capital. Thousands of homes have been razed in just a few months this year and no compensation is being paid to the unfortunate former homeowners.
Meanwhile, no expense seems to have been spared in constructing the 21-meter monument to Akadag (the Protector) as sycophantic government officials and state media call Berdymukhammedov.
The 15-meter pedestal for the sculpture is white marble and the statue of Berdymukhammedov astride an Akhal Teke horse is covered in 24-carat gold.
It is not the first statue to Berdymukhammedov but it is the biggest to date.
Of course Turkmenistan has a recent tradition of statues to the country's leader that started when Berdymukhammedov's predecessor Saparmurat "Turkmenbashi" (head of the Turkmen) Niyazov was president.
Niyazov's example would be difficult to surpass since streets, factories, and farms throughout the country were named after him and even the country's most important Caspian Sea port city, Krasnovodsk, was renamed Turkmenbashi City.
Berdymukhammedov has not gone that far, yet. And it is worth noting that the new statue is a mere six meters high whereas the famous (or infamous) gold statue of Niyazov atop the 75-meter Arch of Neutrality was 12 meters high, and had the added attraction of rotating so Niyazov's face was always turned in the direction of the sun.
However, the new statue to Arkadag is not the last monument we can expect to see to Berdymukhammedov.
The Turkmen president's birthday is June 29 and there is new park in Ashgabat under construction that will be publicly unveiled sometime around the end of June, so stay tuned, there's more to come.
-- Bruce Pannier with contributions by RFE/RL Turkmen Service director Muhammad Tahir
About This Blog
Qishloq Ovozi is a blog by RFE/RL Central Asia specialist Bruce Pannier that aims to look at the events that are shaping Central Asia and its respective countries, connect some of the dots to shed light on why those processes are occurring, and identify the agents of change. Content will draw on the extensive knowledge and contacts of RFE/RL's Central Asian services but also allow scholars in the West, particularly younger scholars who will be tomorrow's experts on the region, opportunities to share their views on the evolving situation at this Eurasian crossroad. The name means "Village Voice" in Uzbek. But don't be fooled, Qishloq Ovozi is about all of Central Asia.
Latest Podcasts