After Venezuelan President Hugo Chavez recently refused to accept the United States' pick for ambassador to his country, he has given some
ideas of candidates
he'd be happy with: Oliver Stone, Sean Penn, Noam Chomsky, or Bill Clinton.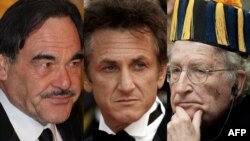 Stone, Penn, and Chomsky (collage, from left)
(Both Stone and Penn have voiced their support for Chavez in the past.)
So in honor of Chavez's desire to pick his own ambassador, we've put together a list of ambassadors other countries might choose. Feel free to add to the list in the comments section.
Jerry Lewis (France):
Apparently the French adore him (or at least they did in the 1960s) because
"he exemplified the French notion of the auteur--the individual."
Adriana Lima, Gisele Bundchen, and Anna Chapman (Italy):
"Sure, ladies, you can all have the same post. But there is one thing, Silvio requests that you dress as ambassadors."
Thomas Friedman (China):
"There is only one thing worse than one-party autocracy, the
Chinese form of government,
and that's one-party democracy."
Jane Fonda (Vietnam):
For her
services to North Vietnam.
Henry Kissinger (Russia):
Known for his
close ties with high-level Russian officials
, including Putin, Kissinger has long advocated closer cooperation with the Kremlin. In the same vein and in a close second place: Gerhard Schroeder
Sylvester Stallone (North Korea):
Apparently, Kim Jong-il is a big fan.
Matthew Bryza (Azerbaijan):
Wait,
he is the ambassador.
And Armenia is unhappy
with his appointment. Enough said.
Bill Clinton (Britain):
According to an informal survey, they love him, but we have no evidence to back that up.
George W. Bush (Albania):
He was given a
hero's welcome in 2007
, before someone
tried to steal his watch.
Any other suggestions?
-- Newsroom