Iranian President Mahmud Ahmadinejad is on his way to New York to attend the UN General Assembly, accompanied by his wife and his close circle of advisers, including controversial aide Esfandiar Rahim Mashaei,
Iranian news agencies reported.
Mashaei, who has been described by hard-line media as the head of a "deviant current" aimed at sidelining the clergy, has not been seen much in public in recent months.
Some hard-liners accuse him of having a negative influence on the Iranian president, who has become increasingly isolated as the result of a power struggle with Supreme Leader Ayatollah Ali Khamenei. Some have even called for Mashaei to be arrested.
Mashaei was planning to travel to the United States in March, but Khamenei's allies apparently blocked the trip. Mashaei has been
accused of trying to open backdoor contacts
to initiate talks with Washington on behalf of Ahmadinejad but without the consent of Khamenei, who has the last say in all state affairs.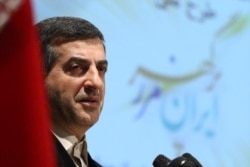 Esfandiar Rahim Mashaei
The Iranian president is traveling to New York while inside his country attacks against him and his entourage continue, namely as part of a
recent embezzlement scandal,
where Mashaei's name has surfaced.
Ahmadinejad has described his cabinet as "the cleanest government in history" and warned that he will not remain silent if the accusations continue. The fact that he has taken Mashaei to New York suggests he has no intention of distancing himself from his right-hand man, whose daughter is reportedly married to his son.
A conservative lawmaker, Nourollah Heydari,
told the Fararu website
that Ahmadinejad took Mashaei with him to prevent his arrest.
"Ahmadinejad expected Mashaei to be arrested during his absence, [so] he took him to New York," Heydari is quoted as saying. "I was expecting Mashaei's clique to be arrested while [Ahmadinejad] was in New York. Finally, things would have been settled, [but] he took Mashaei with him to New York."
Ahead of his trip, Ahmadinejad said
one of his main priorities
is proposing ways to reform "global management." He also said the United Nations is being dominated by "a minority."
It seems the combative Iranian president is getting ready to once again attack the United States and its allies during his UN speech.
-- Golnaz Esfandiari