Former Senior IRGC Commander Comes Under Attack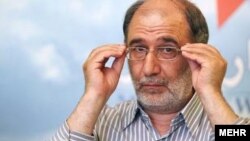 Hossein Alaei, a former senior commander of Iran's powerful Revolutionary Guards Corp (IRGC), has come under attack by his fellow guards and hard-liners over an article in which he appeared to draw an analogy between the rule of Iran's Supreme Leader Ayatollah Ali Khamenei's rule and the last days of the shah of Iran, Mohammad Reza Pahlavi, who was ousted from power in the 1979 revolution.
In an
op-ed published last week
in the "Ettelaat" daily, Alaei, a prominent wartime commander and the former chief of the IRGC navy, raised a number of hypothetical questions the shah could have pondered after being forced into exile.
"If I had given the people permission to demonstrate peacefully and not have accused them of staging a showdown with the government, would the issue have ended?"

"If I had not ordered the security forces to shoot at the people and taken measures to calm them down, wouldn't I have reached a better outcome?"

"If, instead of placing some [prominent political figures] under house arrest, sending others to exile, and jailing political activists, I had opened a dialogue with them, would I have been forced to flee the country?"
He added that dictators who believe they have the right to rule over the people forever only think about these issues after they have been forced to flee, like Libya's former leader Muammar Qaddafi.
Alaei ended his piece with a quote from the Koran: "Thus, learn your lesson, o men of vision."
The issues raised by Alaei were widely interpreted as criticism of the very same moves by Khamenei, including his green light to the brutal 2009 postelection crackdown. The house arrests of opposition leaders Mir Hossein Musavi and Mehdi Karrubi are said to have been put in place with the blessing of Khamenei.
In an
open letter to Alaei
, 12 current and former commanders of the IRGC accused him of insulting the Iranian establishment and said he had made Iran's enemies happy.
Meanwhile, on January 14, hard-liners staged a protest in front of Alaei's house and chanted slogans against him. The semi-official Fars news agency, which is affiliated with the IRGC, said the protest was held in reaction to Alaei's "insulting" note, in which Fars said he had compared the "sacred Islamic establishment of Iran" with the Pahlavi regime.
(To see photos of the protest, including slogans that hard-liners sprayed on Alaei's house,
click here
.)
Some
hard-line websites and blogs
have also criticized Alaei over his article, with one site referring to him as a hyena. (In Persian, the word for hyena, "kaftar," rhymes with "sardar," which is the word for commander.)
In 2010, the head of the IRGC, Mohammad Ali Jafari, acknowledged that some
IRGC members had been supportive of the opposition movement
. The IRGC played a major role in the repression of Iranian citizens who took to the streets in 2009 to protest the reelection of President Mahmud Ahmadinejad.
Jafari said those guards had since been convinced that they had been wrong.
Alaei's note could signal that some of the IRGC's current and former members remain unconvinced.
-- Golnaz Esfandiari
About This Blog
Persian Letters is a blog that offers a window into Iranian politics and society. Written primarily by Golnaz Esfandiari, Persian Letters brings you under-reported stories, insight and analysis, as well as guest Iranian bloggers -- from clerics, anarchists, feminists, Basij members, to bus drivers. Follow @GEsfandiari
​