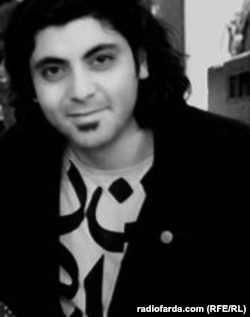 Payam Razi
"The Iran Sound From Way Out" is a new music podcast that explores the best of Iran's underground music scene. (Subscribe on iTunes
here
.
)
Despite the restrictions imposed by the Islamic republic's ruling authorities, Iran has a vibrant underground artistic life.
In the last 10 years, many Iranian musicians have introduced Western musical devices, influences, and instruments into traditional Persian melodies and musical traditions, branding their own Persian sub-genre in familiar styles such as rap and blues.
For this episode,
Radio Farda
's
chief music producer Payam Razi takes listeners backstage in Berlin to talk to
Kiosk
,
one of the first underground bands to gain mass popularity among Iranian youth:
The Iran Sound From Way Out Episode 4
The rock-blues-jazz band Kiosk started in Tehran in 2003 and over the years developed a signature musical style to go along with their Farsi lyrics. They often lift musical elements from Roma traditions, particularly from Russia and the Balkans.
The group started out playing in a basement in the Iranian capital and moved West after some trouble with the Iranian authorities. Many of their songs indirectly comment on the political or social situation in Iran by invoking proverbs, using humor, or playing with other cultural references.
Kiosk just released their fourth album,
"
Triple Distilled: Live At Yoshi's
"
-- a nod to the world-famous San Francisco jazz club, where some of the biggest names in jazz have performed.
English translations of many Kiosk songs are provided by the band
here
.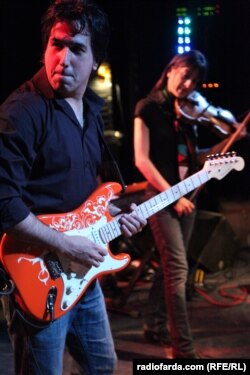 Sobhani performing in Berlin
Kiosk's guitarist and soloist, Arash Sobhani, moved to the United States in 2005 to release the band's first album,
"
Ordinary Man
."
They have since produced three other albums:
"
amor de la velocidad
"
(2007),
"
Global Zoo
"
(2008), and, in October,
"
Triple Distilled: Live At Yoshi's
."
They were the first of the underground Iranian bands to release an album on iTunes.
The songs featured in this program in order of appearance: Yarom bia (from "Global Zoo"), Yarom bia (recorded live in Berlin),
Green Field
,
Taghsire man bood (from "Ordinary man"), Afsoos (from "amor de la velocidad"), Pragmatism Eshghi (from "Global Zoo"), Agha negah dar (from "Global Zoo"), Kafsh (from "Global Zoo" and their performance live in Berlin), Ay Ay (recorded live in Berlin) and Sex Machine from The Yellow Dogs.
WATCH: Kiosk performing at Yoshi's: