RFE/RL Discussion: Who Is Islamic State?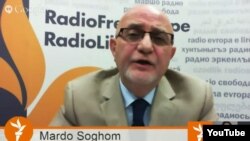 Even if you missed the live broadcast, you can still watch our video discussion of the methods and activities of the brutal militant group Islamic State (IS).
This edition of RFE/RLive features Joanna Paraszczuk, author of RFE/RL's Under The Black Flag blog, which provides daily news and analysis about IS in Iraq and Syria and examines the response to the group in the Arab world, Iran, and across the former Soviet Union.
She was joined by RFE/RL Regional Broadcasting Director for Iran and Iraq Mardo Soghom to talk about who controls IS, whether it functions under a unified command, and whether its leading personalities are indeed the masterminds they appear to be.
Watch it here:
About This Blog
"Under The Black Flag" provides news, opinion, and analysis about the impact of the Islamic State (IS) extremist group in Syria, Iraq, and beyond. It focuses not only on the fight against terrorist groups in the Middle East, but also on the implications for the region and the world.
​