Russia Snipes At U.S. After IS Reportedly Intercepts Air Drop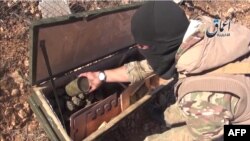 Russia's Deputy Prime Minister Dmitry Rogozin took the opportunity to criticize the United States on October 22, following reports that a U.S. air drop of ammunition and weapons intended for Kurdish militias in Kobani had fallen into the hands of Islamic State (IS) group militants.
In a Facebook post, Rogozin cited Pentagon spokesman, Rear Admiral John Kirby, as saying that "most of the bundles fell into the right hands."
"I'd like to know which 'hands' Washington considers 'right' in the Middle East and which are not. In my opinion, they've gotten their hands there mixed up," the deputy prime minister quipped.
Rogozin's remarks are a reference to Moscow's criticisms that the United States has demonstrated double standards over its approach to the Islamic State group.
Although both Russia and the United States oppose IS, Moscow has refused to join the U.S.-led coalition against the extremist militant group, stating that air strikes should not be carried out on Syrian territory without the permission of its ally, the Assad government.
Earlier this week, Russian Foreign Minister Sergei Lavrov accused Washington of providing support for the Free Syrian Army (FSA) while carrying out air strikes against IS. Moscow considers all armed opposition factions in Syria, including the U.S.-backed FSA, to be illegal terrorist groups.
On October 21, Moscow also accused Washington of double standards over Syria's chemical weapons.
The deputy prime minister's remarks also come as relations between the United States and Russia continue to deteriorate.
Washington has criticized Moscow over the Ukraine crisis, stepping up sanctions against major Russian energy firms, banks, and defense companies last month. Russian President Vladimir Putin has said the United States is attempting to "pressure Russia by means of one-sided, illegitimate restrictive measures."
-- Joanna Paraszczuk
About This Blog
"Under The Black Flag" provides news, opinion, and analysis about the impact of the Islamic State (IS) extremist group in Syria, Iraq, and beyond. It focuses not only on the fight against terrorist groups in the Middle East, but also on the implications for the region and the world.
​