Report: Anbar Tribal Women Form All-Female Force To Fight IS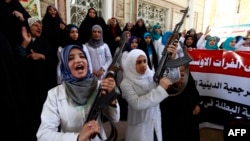 Iraqi and other Arabic media are reporting that more than 50 women in Anbar Province have formed an all-female force named Banat al-Haqq (Daughters of the Truth or Daughters of the Right) to help fight Islamic State (IS) militants in the province.
The source for the report was an Anbar Tribal Council member named as Sakr Salem al-Ithawy, who was quoted as saying that the women would support local tribal forces in the next phase of their war against "the terrorist gangs of IS."
Ithawy was quoted as saying that the women were encouraged to form the force after IS militants destroyed tribal homes and relocated families to other provinces.
The Al-Qurtas News website also quoted Khansa Ahmed, the leader of the Anbar women's center, as saying the 50 tribal women were currently being trained in military tactics and in the use of various types of weapons.
According to Ahmed, once they have completed their training, the all-female force will operate in coordination with local police forces.
Ahmed said she hoped the number of women involved in the new force would increase.
Ahmed also thanked the Anbar tribes for supporting the force by allowing their women to join it.
-- Joanna Paraszczuk
About This Blog
"Under The Black Flag" provides news, opinion, and analysis about the impact of the Islamic State (IS) extremist group in Syria, Iraq, and beyond. It focuses not only on the fight against terrorist groups in the Middle East, but also on the implications for the region and the world.
​