Kuwaitis Muse On The IS Threat In Syria, And At Home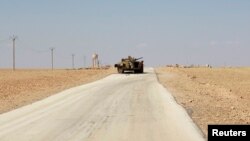 The Kuwaiti press is featuring a number of editorials and op-eds discussing various issues relating to the Islamic State, the U.S.-led coalition in Syria and Iraq, and the domestic implications of the rise of IS.
Among the themes raised are the theory that the rise of IS is the fault of the United States and the West, and that IS could even be a Western creation. Other voices focus on the domestic threat to IS, expressing concern that there is increasing support for IS in Kuwait and other Gulf Cooperation Council (GCC) countries.
Osama Ghareeb, writing in Kuwait's "al-Watan" newspaper, asks what it is about Islamic State that has scared countries like the United States, Jordan, Saudi Arabia, Turkey and Iran.
In a piece titled "IS…A Hollywood Movie," Ghareeb says that while it is understandable that IS would be able to defeat the "disjointed" Syrian Arab Army and the Iraqi Army, the extremist group has "no air force and no anti-aircraft weapons…or mobile rocket launchers" and should therefore not pose a credible threat to the coalition.
Unlike the "Arab resistance" (i.e. Hamas and Palestinian Islamic Jihad) in Gaza, Ghareeb says, IS does not have underground tunnels but rather its members move around in the open in armored vehicles and cars.
Ghareeb suggests that IS is part of an Israeli-U.S. plan, noting that Israel is the only country in the region that does not fear IS and is not bracing itself for danger. He adds that the United States is only striking IS in a limited way and intends to let the situation drag on for years.
Meanwhile, Muna al-Fuzai, writing in the "Kuwait Times," is more concerned with the domestic threat from IS. She notes that while the "global coalition" is busy striking against IS in Syria and Iraq, at home GCC countries are engaged in precautionary measures against the rise of IS. Al-Fuzai says there has been an "increase in tension and passion in favor of IS here in Kuwait" and warns that "if the law is not enforced here, we most probably would witness some heads cut off in the streets."
Al-Fuzai writes that she has listened to people who argue that IS is a threat and those who say the threat is exaggerated and concludes that the extremists do pose a threat.
"[T]he war against the terrorists will have to continue," she writes. "No other choice."
About This Blog
"Under The Black Flag" provides news, opinion, and analysis about the impact of the Islamic State (IS) extremist group in Syria, Iraq, and beyond. It focuses not only on the fight against terrorist groups in the Middle East, but also on the implications for the region and the world.
​