Kazakhs Fight Extremist Recruitment Onstage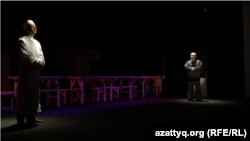 There are many conspicuous ways to fight terrorism and extremism: militarily, financially, ideologically.
In the case of Oral, Kazakhstan, the effort is also theatrical.
The Uralsk Theater is producing a play called Zhannat (Heaven), which deals with the conflict that breaks out in a large family when the oldest son is enticed by "nontraditional Islam."
The play was first staged on May 31, and the local branch of the department for religious affairs had a role in its preparation.
The involvement of the authorities is interesting because it marks a change in government policy. Previously, the government had been blocking access to information about extremist groups like Islamic State (IS), and officials do not speak about the topic in public.
In the Uralsk play, eldest son Suyunish grows a beard, starts performing the Islamic namaz prayer, and makes new friends with a group of young men who share Suyunish's new interests. Suyunish starts to argue with his mother, brothers, and sisters, and he criticizes them for leading "incorrect" lives.
His new associates are portrayed as semiliterate with a superficial knowledge of Islam. The local imam comes to the "confused" young man and explains that Kazakhs are followers of the Hanafi school of Islamic law, not the route that Suyunish's friends are advocating.
The imam quotes a hadith, a teaching of the Prophet Muhammad, that instructs, "Heaven is found at the foot of a mother."
Suyunish's friends eventually turn out to be thieves who steal to help finance the "brothers in faith," Islamic militants who are fighting in Syria.
But Suyunish's mother dies and his new friends are arrested, sending the errant young Muslim into depression from which he emerges only after comprehending his mistakes and repenting.
In the final scene, Suyunish becomes a "normal" Muslim, begs his family's forgiveness, and shaves his beard.
OK, the story might appear a bit obvious and perhaps crude to some.
But remember, authorities in the Caspian coastal city of Atyrau, some 500 kilometers south of Oral, started printing warnings about the dangers of religious extremism on the reverse side of utility bills in late 2013.
Who is more likely to join IS, a dissatisfied theater patron or someone who can't pay their electric and gas bills?
Back in Ural, the head of the local branch of the department for religious affairs, Talgat Nigmetov, said Zhannat is based on actual events.
But Zhannat's director, Mukangali Tomanov, said he could not be so sure. Tomanov added that he didn't think theater should be a vehicle for promoting government policies; but he said that in this one case, he was happy to make an exception.
"This particular problem is a burning issue in our society," Tomanov said.
-- By Bruce Pannier, with contributions by RFE/RL Kazakh Service Director Torokul Doorov
About This Blog
Qishloq Ovozi is a blog by RFE/RL Central Asia specialist Bruce Pannier that aims to look at the events that are shaping Central Asia and its respective countries, connect some of the dots to shed light on why those processes are occurring, and identify the agents of change. Content will draw on the extensive knowledge and contacts of RFE/RL's Central Asian services but also allow scholars in the West, particularly younger scholars who will be tomorrow's experts on the region, opportunities to share their views on the evolving situation at this Eurasian crossroad. The name means "Village Voice" in Uzbek. But don't be fooled, Qishloq Ovozi is about all of Central Asia.
Latest Podcasts