Figure For Kazakh Voter Turnout Difficult To Believe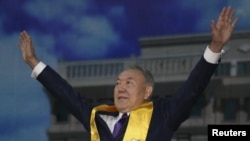 Kazakhstan conducted its early presidential election on April 26 and it was no surprise that incumbent President Nursultan Nazarbaev won. It was not even much of a surprise that he received 97.7 percent of the vote, considering his two opponents were little known to the general public and were also Nazarbaev supporters.
What was surprising was the voter turnout figure the Central Election Commission (CEC) provided -- 95.22 percent.
Some media sources did report seeing long lines at polling stations in Kazakhstan's two biggest cities: Almaty and Astana.
But other sources, such as Eurasianet's Joanna Lillis, a veteran of reporting in Central Asia, tweeted on election day that only a few voters came to the polling station she was watching in Almaty.
RFE/RL's Kazakh Service, known locally as Azattyq, was out on election day and can confirm large voter turnouts at some polling stations in Almaty and Astana (such as in this video):
Azattyq reported that in the last few days leading up to the April 26 poll there had been a countrywide campaign to get out the vote. Activists were visible throughout the country urging people to cast their ballots on election day.
Azattyq also heard that many people were told by their bosses at work that they had better go and cast their ballots or face unspecified consequences. There are tales that in some cases employers insisted workers take "selfies" of themselves placing their ballot in the box.
But there are also reports from other areas of Kazakhstan that indicate voter turnout was not very high, certainly nowhere near 80 or 90 percent.
The OSCE's Office for Democratic Institutions and Human Rights (ODIHR) on April 27 released its preliminary assessment of Kazakhstan's presidential election and noted that "serious procedural deficiencies and irregularities were observed throughout the voting, counting, and tabulation processes, including indications of ballot-box stuffing."
According to Kazakhstan's CEC, there were 9,514,988 people eligible to cast ballots at more than 9,700 polling stations (65 of them abroad).
The outcome of the vote was clear as soon as the early election was announced, and the weather in many parts of the country was bad for all or part of election day. Those two factors usually speak against high voter turnout.
Also, CEC Deputy Chairman Vladimir Foos said not long after polls closed that preliminary results showed that only 72.28 percent of voters in Almaty, Kazakhstan largest city, had cast ballots.
Azattyq has several videos of election day worth viewing to get a feel of activity at polling stations in Astana and Almaty.
But the one that is "must-see" viewing, for those who know Kazakh or Russian, is an interview with the observers from Kazakhstan's political parties at one polling station, where one person claims to be an observer from the Azat party, which no longer exists, and the people presented as representatives from the Communist Party and the Aul party seem not to know much about their political organizations:
-- Bruce Pannier, with contributions from RFE/RL Kazakh Service Director Torokul Doorov
About This Blog
Qishloq Ovozi is a blog by RFE/RL Central Asia specialist Bruce Pannier that aims to look at the events that are shaping Central Asia and its respective countries, connect some of the dots to shed light on why those processes are occurring, and identify the agents of change. Content will draw on the extensive knowledge and contacts of RFE/RL's Central Asian services but also allow scholars in the West, particularly younger scholars who will be tomorrow's experts on the region, opportunities to share their views on the evolving situation at this Eurasian crossroad. The name means "Village Voice" in Uzbek. But don't be fooled, Qishloq Ovozi is about all of Central Asia.
Latest Podcasts