WATCH: An actor playing Kazakh President Nursultan Nazarbaev pays a visit to a forest in a new play that presents a thinly veiled metaphor for the growth of a vibrant Kazakh society.
When Kazakh President Nursultan Nazarbaev seeks advice, he heads to the woods -- and the trees tell him how to deal with everyday issues and even how to handle his friends and foes.
No, it doesn't necessarily mean that the Kazakh president has lost touch with reality. It is merely how Nazarbaev's leadership methods are depicted in "Deep Roots," a play that premiered in Astana this week. And the trees, according to producer Nurlan Zhumaniyazov, are intended to represent people.
The show depicts the president visiting a forest outside Astana and asking the forest ranger why he cuts some trees and leaves the others.
"You need to come at night to find out why," the forest ranger suggests. Upon returning, the trees tell him in the dark about those who support the leader and also about those who try to trip him up.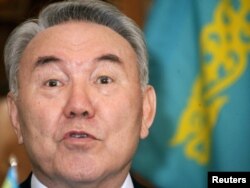 Kazakh President Nursultan Nazarbaev
In the end, the leader and the trees agree that the best approach to take with those who dislike you is to treat them well -- instead of punishing them -- and that will lead to harmony and prosperity.
"At the end of the show, not a single tree has been cut," Zhumaniyazov notes.
Nazarbaev's character is played by actor Kuandyk Kystykbaev, who has a striking resemblance to the president.
"Deep Roots" premiered in an Astana theater as part of the weeklong Astana Day celebrations that coincided with Nazarbaev's birthday on July 6.
"Deep Roots" is not the only showbiz production dedicated to the president.
The Kazakh-language movie
"The Sky of My Childhood,"
first screened in April, depicts Nazarbaev growing up as a bright, young child in the village of Chemolgan.
Kazakh media reported that Nazarbaev watched the movie shortly before it went to the cinemas, and that he highly approved of it.
-- Farangis Najibullah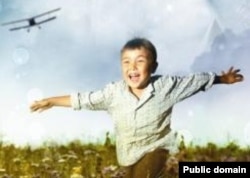 A scene from the film "The Sky of My Childhood"