Majlis Podcast: Russia's Influence On Kyrgyzstan's Elections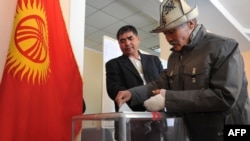 With Kyrgyzstan scheduled to hold its presidential vote on October 15, this week's Majlis looks at the unavoidable Russian influence on Kyrgyzstan's elections.
Russia is being accused of meddling in elections in the United States and in European countries, but the hand of the Kremlin has been felt in Kyrgyzstan's elections for some time now.
Muhammad Tahir, RFE/RL's media relations manager, moderated a discussion on Russia's role in Kyrgyzstan's previous elections and how candidates for the country's presidency are currently posturing themselves with Russia in mind.
Former Kyrgyz member of parliament Ravshan Jeenbekov participated in the talk from Bishkek. Taking part from the United States was Erica Marat, one of the leading authorities on Central Asia, who is currently teaching at the National Defense University's College of International Security Affairs. And I've been watching Kyrgyzstan's elections for a couple of decades now, so I had something to say also.
Listen to the podcast above or subscribe to the Majlis on iTunes.
About This Blog
Qishloq Ovozi is a blog by RFE/RL Central Asia specialist Bruce Pannier that aims to look at the events that are shaping Central Asia and its respective countries, connect some of the dots to shed light on why those processes are occurring, and identify the agents of change. Content will draw on the extensive knowledge and contacts of RFE/RL's Central Asian services but also allow scholars in the West, particularly younger scholars who will be tomorrow's experts on the region, opportunities to share their views on the evolving situation at this Eurasian crossroad. The name means "Village Voice" in Uzbek. But don't be fooled, Qishloq Ovozi is about all of Central Asia.
Latest Podcasts