Uluu Pamir -- Documentary Film Charts The Plight Of A Kyrgyz Tribe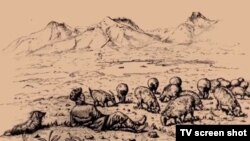 The great westward migrations of people from the Eurasian landmass's interior that began several millennia ago still continue today. One of the latest chapters in this long tale is the flight of Pamiri Kyrgyz.

They lived for centuries in the high-mountain pastures of the Pamir Mountains, part of the "Rooftop of the World."

The arrival of Russian Tsarist forces in the region in the late 1800s sparked the first movement of Pamiri Kyrgyz but, over the course of the next 100 years, changes in political systems would push them farther from their pasture homelands.

During the Cold War, Western politicians spoke of the domino theory; the idea that, when one communist state was established, neighboring states would fall under communism, too.

For some 60 years, the Pamiri Kyrgyz were running to keep from being crushed by these dominoes, finally ending up in eastern Turkey, courtesy of the Turkish government.

The documentary film "Uluu Pamir" recounts the long journey of the Pamiri Kyrgyz and looks at their current situation in the village they call "Uluu Pamir" (Great Pamir) in the Van region of eastern Turkey.

This story is also a retelling of an ancient tale of migration; the desire of older generations to preserve customs while the youth are increasingly assimilated into the life and culture of their new homeland.

"Uluu Pamir" presents a rare opportunity to see this process, what caused it to happen, and where it has led during the last three decades.

A heavy question hangs over the film, at least for me, as to whether the Pamiri Kyrgyz are better, or worse off in their new homeland.

WATCH: "Uluu Pamir" The documentary was filmed by Janyl Jusupjan of RFE/RL's Kyrgyz Service, who also did the interviews, with editing by Stan Adamek.

-- Bruce Pannier
About This Blog
Qishloq Ovozi is a blog by RFE/RL Central Asia specialist Bruce Pannier that aims to look at the events that are shaping Central Asia and its respective countries, connect some of the dots to shed light on why those processes are occurring, and identify the agents of change. Content will draw on the extensive knowledge and contacts of RFE/RL's Central Asian services but also allow scholars in the West, particularly younger scholars who will be tomorrow's experts on the region, opportunities to share their views on the evolving situation at this Eurasian crossroad. The name means "Village Voice" in Uzbek. But don't be fooled, Qishloq Ovozi is about all of Central Asia.
Latest Podcasts