Russian Prime Minister Vladimir Putin now has a mountain peak named after him in Kyrgyzstan, after the country's president signed a decree to that effect.
President Roza Otunbaeva's signature today comes after parliament last month voted to name the 4,446-meter-high peak after Putin in a bid to promote friendly relations.
The newly named peak is situated on the right bank of the Jar-Tash River in the northern region of Chui.
Prime Minister Almazbek Atambaev made the "Mount Putin" proposal to parliament in late December after returning from a visit to Moscow.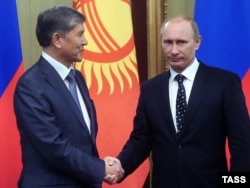 Putin (right) welcomes Almazbek Atambaev to Moscow in December. Now he's got his own mountain.
The move was criticized by the opposition Ata-Meken (Fatherland) party.
In January, Ata-Meken faction member Joomart Saparbaev told RFE/RL that the proposal violated a Kyrgyz law that bans naming geographic locations after living politicians and prominent people.
He said it was "impermissible" to make government decisions "simply to satisfy someone's political ambitions" or "dictated by the current political situation."
Atambaev and other Kyrgyz political leaders made several trips to Moscow before and after the October 10 parliamentary elections.
Some people criticized the politicians making the visits as showing too much deference to the Kremlin in the formation of the Kyrgyz government.
-- RFE/RL's Kyrgyz Service (
read in Kyrgyz
)