Editor's Note: RFE/RL correspondent Daisy Sindelar is reporting from Osh, Kyrgyzstan, on the anniversary of the deadly ethnic violence that shook the region in June 2010. Follow her on Twitter (@DaisySindelar)
.
Azyn Yusupov has lost nearly everything. But one of his biggest regrets involves the sparkling white gates that once secured his seven-room home in the Uzbek mahalla, or neighborhood, in the city's northern Osh District.
He keeps a carefully wrapped package of photographs that show the devastation wrought upon his home on the night of June 11, 2010, when he and nine other men from the mahalla attempted, unsuccessfully, to protect the neighborhood from a crowd of more than 100 Kyrgyz. His brand-new gates survived the fire and the looting that destroyed his home. But within days, they were stolen as well.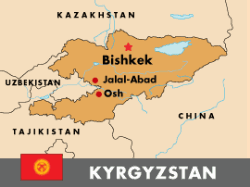 "My family survived, and in that we're very fortunate," says the 53-year-old Yusupov. "But they took everything else."
Now it's a rusted, pale-blue gate, covered with scratches and pockmarks, that closes off his property. Yusupov looks at it with a wince. But once inside his courtyard, with his back turned to the offending structure, his mood improves.
His world is slowly coming back to life.
Three sturdy brick rooms have been rebuilt with funding from the UN refugee agency and the help of development groups like Acted and Aga Khan. His abundant rose garden fills the yard with a sun-baked peppery sweetness, and all the women in his life – his wife, daughters, and a tiny granddaughter – gather around him with evident affection.
"Women love me!" he says with a laugh.
But with the anniversary of the Osh clashes just days away, Yusupov says he is uneasy. With work hard to find, his sons have traveled to Russia, and the responsibility of keeping his family safe is a constant weight on his mind.
He has watched several of the neighborhood men die this year -- "of stress, the stress of seeing their lives destroyed" -- and says people in the mahalla are constantly on edge.
"Everything frightens us now," he says, nodding his head toward the rusted blue gates. "Any little shout or noise, and it's like it's starting all over again."
-- Daisy Sindelar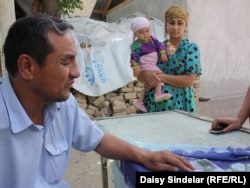 Yusupov looks at photographs of his ruined home. "My family survived, and in that we're very fortunate," Yusupov says. "But they took everything else."