Majlis Podcast: China's Increasing Role Along Afghan Border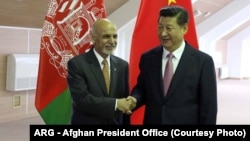 In this latest episode of the Majlis podcast, we returned to northern provinces of Afghanistan that border Central Asia. Information about the presence of militants from the so-called Islamic State extremist group continues to be reported and it appears China is playing a greater role in the Afghan area near the Chinese border, which is also near the Tajik and Pakistani borders.
With the cast of players increasing in northern Afghanistan, Muhammad Tahir, RFE/RL's media-relations manager, moderated a discussion on the increasingly complicated landscape in the area.
Participating in the discussion was Michael Semple, a professor in the George Mitchell Institute for Global Peace, Security and Justice at Queen's University Belfast, and a person with decades of experience in Afghan affairs. From Vietnam, we were joined by Jacob Zenn, a fellow of African and Eurasian Affairs for the Jamestown Foundation and a consultant on countering violent extremism. And from Istanbul, Josh Kucera, a freelance writer and editor at EurasiaNet who specializes in international relations and military affairs, made his long-awaited debut on the Majlis (we've been trying to get him on for years). I had a few things to share also.
Listen to the podcast above or subscribe to the Majlis on iTunes.
About This Blog
Qishloq Ovozi is a blog by RFE/RL Central Asia specialist Bruce Pannier that aims to look at the events that are shaping Central Asia and its respective countries, connect some of the dots to shed light on why those processes are occurring, and identify the agents of change. Content will draw on the extensive knowledge and contacts of RFE/RL's Central Asian services but also allow scholars in the West, particularly younger scholars who will be tomorrow's experts on the region, opportunities to share their views on the evolving situation at this Eurasian crossroad. The name means "Village Voice" in Uzbek. But don't be fooled, Qishloq Ovozi is about all of Central Asia.
Latest Podcasts