Majlis Podcast: Black Snow, Water Signal Central Asian Ecological Problems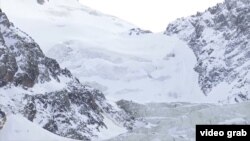 With black snow falling in Kazakhstan's northeastern city of Temirtau earlier in January, this latest Majlis session looked at the growing number of environmental problems in Central Asia.
Across the region, governments have been ramping up industry and production but in recent years the effects of this on the environment are becoming increasing noticeable from the Tien-Shan and Pamir mountains in the east to the Caspian Sea in the west.
Moderating the discussion on the worsening pollution situation in Central Asia was RFE/RL's media relations manager, Muhammad Tahir.
From Bishkek, freelance journalist Ryskeldi Satke, who has written extensively on ecological problems in Central Asia, joined the discussion. From London, where she is currently studying, Kazakh journalist Aygerim Toleukhanova took part. From the Washington, D.C. area, Sonia Zilberman, the South Caspian Energy and Environment program manager at Crude Accountability, participated in our Majlis. And I had a few things to say as well.
​
Listen to the podcast above or subscribe to the Majlis on iTunes.
About This Blog
Qishloq Ovozi is a blog by RFE/RL Central Asia specialist Bruce Pannier that aims to look at the events that are shaping Central Asia and its respective countries, connect some of the dots to shed light on why those processes are occurring, and identify the agents of change. Content will draw on the extensive knowledge and contacts of RFE/RL's Central Asian services but also allow scholars in the West, particularly younger scholars who will be tomorrow's experts on the region, opportunities to share their views on the evolving situation at this Eurasian crossroad. The name means "Village Voice" in Uzbek. But don't be fooled, Qishloq Ovozi is about all of Central Asia.
Latest Podcasts