Majlis Podcast: Outside Central Asia, Where The Radicalization Happens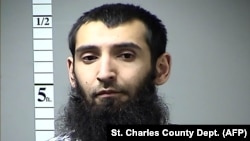 On this week's Majlis podcast, we look at the deadly October 31 attack in New York City, blamed by police on Sayfullo Saipov, an immigrant from Uzbekistan.
The attack, which left eight people dead, raised questions in the Western media about the increasing role that nationals from Central Asian nations -- Uzbekistan, in particular -- appear to be playing in terrorist attacks. More significantly, the tragedy also raised questions about what happens to people from Central Asia years after they have left their homelands and settled in new countries.
Muhammad Tahir, RFE/RL's media relations manager, moderated the discussion.
From England, David Lewis, a senior lecturer at the University of Exeter in the U.K. and a specialist in Central Asian studies, took part in the discussion. From New York City, Edward Lemon, a postdoctoral fellow at Columbia University's Harriman Institute, who has written extensively about the radicalization of Central Asian migrant laborers, joined the talk, as did Sirojiddin Tolibov, a broadcaster in RFE/RL's Uzbek Service. I had some things to say also.
Listen to the podcast above or subscribe to the Majlis on iTunes.
About This Blog
Qishloq Ovozi is a blog by RFE/RL Central Asia specialist Bruce Pannier that aims to look at the events that are shaping Central Asia and its respective countries, connect some of the dots to shed light on why those processes are occurring, and identify the agents of change. Content will draw on the extensive knowledge and contacts of RFE/RL's Central Asian services but also allow scholars in the West, particularly younger scholars who will be tomorrow's experts on the region, opportunities to share their views on the evolving situation at this Eurasian crossroad. The name means "Village Voice" in Uzbek. But don't be fooled, Qishloq Ovozi is about all of Central Asia.
Latest Podcasts