Majlis Podcast: What Is Kyrgyzstan's New President Doing?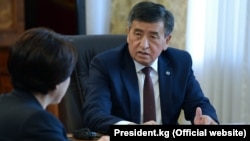 Kyrgyzstan's new president, Sooronbai Jeenbekov, comes from the same party as his predecessor, Almazbek Atambaev. Jeenbekov promised when he was campaigning that he would continue Atambaev's policies, but those policies did not resolve many of the issues Kyrgyzstan faces, and something different is needed.
Muhammad Tahir, RFE/RL's media relations manager, moderated a discussion that looked at the problems Jeenbekov inherited, what he is doing about them, and what he needs to do to move Kyrgyzstan forward.
Joining the Majlis from Istanbul was Mihra Rittmann (@MihraRittmann) Central Asia researcher for Human Rights Watch. Rittmann was declared persona non grata in December 2015 when Atambaev was president. From Bishkek, Medet Tiulegenov (@tiulegenov), assistant professor at the American University of Central Asia, participated in the talk. I've been unimpressed by Jeenbekov's first months in power so I had a few things to say also.
Listen to the podcast above or subscribe to the Majlis on iTunes.
About This Blog
Qishloq Ovozi is a blog by RFE/RL Central Asia specialist Bruce Pannier that aims to look at the events that are shaping Central Asia and its respective countries, connect some of the dots to shed light on why those processes are occurring, and identify the agents of change. Content will draw on the extensive knowledge and contacts of RFE/RL's Central Asian services but also allow scholars in the West, particularly younger scholars who will be tomorrow's experts on the region, opportunities to share their views on the evolving situation at this Eurasian crossroad. The name means "Village Voice" in Uzbek. But don't be fooled, Qishloq Ovozi is about all of Central Asia.
Latest Podcasts