Majlis Podcast: More Signs Of Turkmenistan's Economic Meltdown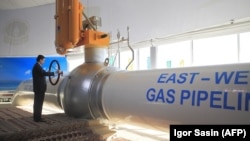 This week's Majlis podcast looks at Turkmenistan's economic crisis.
Turkmenistan has the fourth-largest reserves of natural gas and once, decades ago, the leadership of the country was predicting it would become a second Kuwait.
Instead, the country has reached the point where the government is compensating for shortfalls in revenue by putting the burden on the people of Turkmenistan.
Muhammad Tahir, RFE/RL's media relations manager, moderated a discussion on the latest signs from Turkmenistan showing the extent of the steep economic downturn.
From Scotland, Dr. Luca Anceschi, a lecturer in Central Asian studies at the University of Glasgow, participated. From London, Maximilien Lamberston, an analyst at The Economist Intelligence Unit who covers the Balkans, the Caucasus, Central Asia, and Russia, joined the discussion. From Prague, the director of RFE/RL's Turkmen Service, Farruh Yusupov, told the Majlis some of what he has been hearing out of Turkmenistan lately. And I chipped in a few comments, too.
Listen to the podcast below or subscribe to the Majlis on iTunes.
About This Blog
Qishloq Ovozi is a blog by RFE/RL Central Asia specialist Bruce Pannier that aims to look at the events that are shaping Central Asia and its respective countries, connect some of the dots to shed light on why those processes are occurring, and identify the agents of change. Content will draw on the extensive knowledge and contacts of RFE/RL's Central Asian services but also allow scholars in the West, particularly younger scholars who will be tomorrow's experts on the region, opportunities to share their views on the evolving situation at this Eurasian crossroad. The name means "Village Voice" in Uzbek. But don't be fooled, Qishloq Ovozi is about all of Central Asia.
Latest Podcasts