Majlis Podcast: Tajikistan's Civil War And What Came After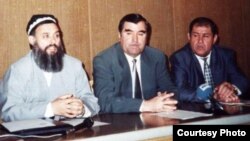 The topic of this week's Majlis podcast is the Tajik civil war: How it started, what fueled it, how it ended after five years in an unusual peace deal signed in Moscow on June 27, 1997, and how that deal fell apart over the course of the last 20 years.
Muhammad Tahir, RFE/RL's media relations manager, moderated the discussion.
From the Russian and Eastern European Institute at Indiana University, visiting scholar Dr. Navruz Nekbakhtshoev, who is from Tajikistan, joined the show. Longtime Majlis friend and recognized authority on Tajikistan Dr. Edward Lemon, who is currently doing postdoctoral work at Columbia University's Harriman Institute, participated. Some of the first articles I ever wrote were about Tajikistan during the days of the civil war, so I had a few things to say also.
Listen to the podcast above or subscribe to the Majlis on iTunes.
About This Blog
Qishloq Ovozi is a blog by RFE/RL Central Asia specialist Bruce Pannier that aims to look at the events that are shaping Central Asia and its respective countries, connect some of the dots to shed light on why those processes are occurring, and identify the agents of change. Content will draw on the extensive knowledge and contacts of RFE/RL's Central Asian services but also allow scholars in the West, particularly younger scholars who will be tomorrow's experts on the region, opportunities to share their views on the evolving situation at this Eurasian crossroad. The name means "Village Voice" in Uzbek. But don't be fooled, Qishloq Ovozi is about all of Central Asia.
Latest Podcasts