Majlis Podcast: With Uzbek Security Chief Out, Mirziyoev Loses Last Obstacle To Reform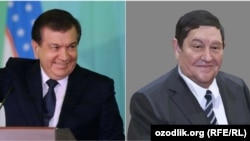 The departure of Rustam Inoyatov, the head of the powerful National Security Service, after more than 20 years has been called one of the biggest event in Uzbekistan's recent history, second only to the death of President Islam Karimov in 2016.
Seen as an obstacle to new President Shavkat Mirziyoev's plans for reform, Inoyatov's removal from power should free Mirziyoev to push forward his policies. Opinions vary on Mirziyoev's ability, and perhaps even desire, to make good on all his promises.
Muhammad Tahir, RFE/RL's media-relations manager, moderated a discussion on what Inoyatov's exit means for President Mirziyoev, and his plans for Uzbekistan.
Joining the discussion from Bishkek was Steve Swerdlow (@steveswerdlow), the Central Asia researcher for Human Rights Watch. From Washington D.C., we had Catherine Putz (@LadyPutz ), managing editor at The Diplomat magazine and also the author of many articles about Central Asia, taking part in the conversation. Our own Alisher Sidik, director of RFE/RL's Uzbek Service, known locally as Ozodlik, helped us out. And I'm one of many people who were waiting for Inoyatov to leave, so I wanted to say some things as well.
Listen to the podcast above or subscribe to the Majlis on iTunes.
About This Blog
Qishloq Ovozi is a blog by RFE/RL Central Asia specialist Bruce Pannier that aims to look at the events that are shaping Central Asia and its respective countries, connect some of the dots to shed light on why those processes are occurring, and identify the agents of change. Content will draw on the extensive knowledge and contacts of RFE/RL's Central Asian services but also allow scholars in the West, particularly younger scholars who will be tomorrow's experts on the region, opportunities to share their views on the evolving situation at this Eurasian crossroad. The name means "Village Voice" in Uzbek. But don't be fooled, Qishloq Ovozi is about all of Central Asia.
Latest Podcasts