Majlis Podcast: World Bank Linked To Forced Labor In Uzbekistan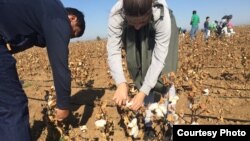 On this week's show, the Majlis podcast returns to Uzbekistan's cotton fields.
The Majlis has looked at the forced labor campaign in Central Asia's cotton fields before, but on June 27, Human Rights Watch and the Uzbek-German Forum for Human Rights released a report drawing attention to World Bank loans for Uzbekistan's agricultural programs that use forced labor.
Muhammad Tahir, RFE/RL's media relations manager, moderated a discussion on the topic.
Jessica Evans, a senior researcher at Human Rights Watch, took part. Also participating was Allison Gill, an associate at the Uzbek-German Forum for Human Rights. And Kirill Buketov, international officer at the International Union of Food and Agriculture Workers, joined the discussion. And I had a couple of things to say, too.
Listen to the podcast above or subscribe to the Majlis on iTunes.
About This Blog
Qishloq Ovozi is a blog by RFE/RL Central Asia specialist Bruce Pannier that aims to look at the events that are shaping Central Asia and its respective countries, connect some of the dots to shed light on why those processes are occurring, and identify the agents of change. Content will draw on the extensive knowledge and contacts of RFE/RL's Central Asian services but also allow scholars in the West, particularly younger scholars who will be tomorrow's experts on the region, opportunities to share their views on the evolving situation at this Eurasian crossroad. The name means "Village Voice" in Uzbek. But don't be fooled, Qishloq Ovozi is about all of Central Asia.