Majlis Podcast: How Significant Is The Shanghai Cooperation Organization?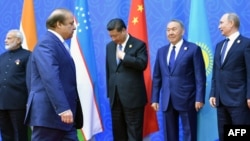 The topic of this week's Majlis was the latest summit of the Shanghai Cooperation Organization (SCO) in the Kazakh capital, Astana, on June 9.
For the first time since 2001, new members were admitted to the SCO, with India and Pakistan joining China, Kazakhstan, Kyrgyzstan, Russia, Tajikistan, and Uzbekistan.
Several SCO officials, including host President Nursultan Nazarbaev, called it a "historic" day.
Russian President Vladimir Putin said: "The expansion will undoubtedly help the SCO become a more powerful organization." He added that the addition of new members would also increase the SCO's "political, economic, and humanitarian influence."
But there are different opinions about how powerful the SCO is, or can ever be.
Muhammad Tahir, RFE/RL's media relations manager, moderated the Majlis panel discussion on the recent SCO summit. Joining the talk from Vietnam was Jacob Zenn, an analyst of Eurasian Affairs for The Jamestown Foundation and also a non-resident research fellow of the Center for Shanghai Cooperation Organization Studies. Alex Melikishvili, a senior analyst of the risk environment in the Caucasus and Central Asia for IHS Markit Country Risk, participated from Washington.
As usual, I also took part in the debate from RFE/RL's headquarters in Prague.
Listen to or download the Majlis podcast below or subscribe to the Majlis on iTunes.
About This Blog
Qishloq Ovozi is a blog by RFE/RL Central Asia specialist Bruce Pannier that aims to look at the events that are shaping Central Asia and its respective countries, connect some of the dots to shed light on why those processes are occurring, and identify the agents of change. Content will draw on the extensive knowledge and contacts of RFE/RL's Central Asian services but also allow scholars in the West, particularly younger scholars who will be tomorrow's experts on the region, opportunities to share their views on the evolving situation at this Eurasian crossroad. The name means "Village Voice" in Uzbek. But don't be fooled, Qishloq Ovozi is about all of Central Asia.
Latest Podcasts