Majlis Podcast: Tajik Government Goes After Relatives Of Opposition Leaders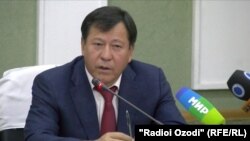 The topic of this week's Majlis session was the Tajik government's recent moves to put pressure on the relatives of opposition leaders who have fled Tajikistan.
This started after the Islamic Renaissance Party of Tajikistan (HNIT) organized a conference in Dortmund, Germany, on July 9 with other opposition groups that have been banned in Tajikistan.
Human Rights Watch (HRW) and the Norwegian Helsinki Committee released a report on the harassment that ensued on July 18.
On July 21, Tajik Interior Minister Ramazon Rahimzoda denied the accusations made in the report.
Muhammad Tahir, RFE/RL's media relations manager, moderated a discussion on the HRW report.
Participating from Europe (we are not going to say exactly where), HNIT representative Mahmudjon Faizrahmon joined the discussion. From Bishkek, Majlis friend Steve Swerdlow, HRW's chief researcher for Central Asia, took part in the discussion. From Canada, where she is currently enjoying a vacation, Helene Thibault, noted author of works on Tajikistan and professor at Nazarbaev University in Astana, Kazakhstan, participated in the talk. I pitched in a few comments also.
Listen to the podcast above or subscribe to the Majlis on iTunes.
About This Blog
Qishloq Ovozi is a blog by RFE/RL Central Asia specialist Bruce Pannier that aims to look at the events that are shaping Central Asia and its respective countries, connect some of the dots to shed light on why those processes are occurring, and identify the agents of change. Content will draw on the extensive knowledge and contacts of RFE/RL's Central Asian services but also allow scholars in the West, particularly younger scholars who will be tomorrow's experts on the region, opportunities to share their views on the evolving situation at this Eurasian crossroad. The name means "Village Voice" in Uzbek. But don't be fooled, Qishloq Ovozi is about all of Central Asia.
Latest Podcasts