Mob Wars: A Vor For A Vor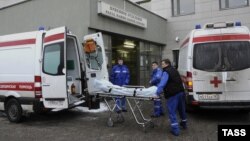 And so it begins.
The assassins were waiting in a silver Mercedes as Astamur Guliya, a 31-year-old crime kingpin,
left a restaurant
in downtown Sukhumi. They
opened fire
as Guliya entered the parking lot, mortally wounding him.
It was impossible not to notice the similarities with the killing four days earlier of the legendary gangster
Aslan Usoyan
as he left a restaurant in central Moscow. It was also impossible not to notice that the hit took place on the same day that Usoyan was
buried in the Russian capital
, where hundreds of mob bosses from all over the former Soviet Union bid their farewells.
And it was impossible not to notice that like Usoyan, Guliya was a "vor v zakone," or "thief in law," the rough equivalent of a "made man" in the Russian and post-Soviet underworld.
But Usoyan and Guliya were very different types of made men.
The 75-year-old Usoyan, a Georgian-born Kurd who was also known as "Ded Khasan" or "Grandpa Khasan," was an old school "vor v zakone" who followed an elaborate code of conduct that dates back to the early 20th century.
The younger Guliya was only crowned a "vor" in December. And, significantly, Usoyan did not recognize the coronation, claiming it was not done in accordance with the thieves' code, calling Guliya a "pretender."
Speaking on the latest
"Power Vertical Podcast"
last week, NYU professor Mark Galeotti, an expert on Russian organized crime and author of the blog "In Moscow's Shadows," said much of the turbulence in the Russian underworld is attributable to a struggle between the old style "vor v zakone" and the younger, flashier, and more brash breed of mobster that has emerged in recent decades.
"This is part of a generational shift," Galeotti said. "The new breed of gangster that has emerged don't wear the tattoos or have a background in the prison camps. They are gangster businessmen. They don't cleave to the old rules."
Usoyan, Galeotti noted, was one of "the last of the old dinosaurs" and his killing marked "an important change point in the Russian underworld."
And the hit on Guliya appears to be the old guard showing its teeth.
Guliya was allied with one of Usoyan's fiercest rivals, an Azerbaijani gangster named Rovshan Janiyev. On the podcast and
on his blog
, Galeotti named Janiyev, as well as the Georgian crime bosses Tariel Oniani and Zakhar Kalashov, as those who potentially could have ordered the Usoyan hit.
"This could be a retaliation, but it could also simply be a part of a the wider spill-out. Certainly, there are some in Usoyan's network who continue to blame Janiyev, even if the current weight of evidence and supposition points towards Oniani," Galeotti wrote in an e-mail January 21.
He noted that
Dmitry Chanturia
, Usoyan's nephew, who took over his network, may want to avoid a war with Oniani until he consolidates his authority.
"Oniani is a much harder target, so maybe he has politically chosen to blame Janiyev," he wrote.
Whatever the case, we should expect more mob violence to follow amid the ongoing generational conflict in the underworld, competition over the Afghan heroin trade, and battles over construction contracts for the 2014 Winter Olympic Games in Sochi.
"We've had over a decade of relative peace in the underworld, but that peace was already under considerable pressure," Galeotti said on
"The Power Vertical Podcast"
last week.
-- Brian Whitmore
UPDATE:
Be sure to check out Mark's new, and very comprehensive, post on the Guliya hit and the current turbulence in the underworld
here
.
About This Blog
The Power Vertical is a blog written especially for Russia wonks and obsessive Kremlin watchers by Brian Whitmore. It offers Brian's personal take on emerging and developing trends in Russian politics, shining a spotlight on the high-stakes power struggles, machinations, and clashing interests that shape Kremlin policy today. Check out The Power Vertical Facebook page or Follow @PowerVertical
Latest Podcast