As the presidents of Armenia, Azerbaijan, and Russia meet this weekend, flanked by U.S. and French diplomats, they're attempting to budge a geopolitical bolder -- and not let it fall back on them.
That's the metaphor of choice for Thomas de Waal, a South Caucasus analyst at Washington's Carnegie Endowment for International Peace who has tracked the long-standing conflict between Baku and Yerevan over the breakaway Azerbaijani territory of Nagorno-Karabakh.
"I've compared [the Nagorno-Karabakh peace process] to the Greek myth of Sisyphus where he rolls the rock up the hill and never quite gets to the top and it rolls down again," de Waal says. "And we've obviously reached one of those moments."
Indeed, in the years since a cease-fire ended the bloody 1988-94 war over Nagorno-Karabakh, the international community has seen its efforts to resolve the conflict repeatedly stymied. With tensions still simmering, and the territory's ethnic Armenians maintaining an uneasy de facto independence, each setback in the peace process has threatened to reignite an all-out battle.
But now, many observers believe that there is finally cause for cautious optimism.
Core Principles
Ahead of the June 24-25 summit on the conflict in the Russian city of Kazan, some said a breakthrough was possible.
In the arduous course of the Karabakh peace process, that means not actually settling the conflict but agreeing the core principles that will guide future steps forward.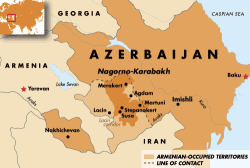 These include the return of Armenian-occupied lands surrounding Nagorno-Karabakh to Baku's control; the right of return for displaced persons; interim status for Nagorno-Karabakh with security and self-governance guarantees; and an agreement to determine the territory's final legal status at some point in the future.
After more than five years spent ironing out the principles with both sides, Russia, the United States, and France recently raised the stakes. Each of the three countries contributes a co-chair to the Minsk Group, the OSCE body formed in 1995 to help broker a solution to the conflict.
In a statement issued on May 26 on the sidelines of the G8 summit in Deauville, France, the presidents of the three countries said "the time has arrived" for "decisive steps."
"Further delay," they added, "would only call into question the commitment of [Armenia and Azerbaijan] to reach an agreement."
De Waal says better coordination between Russia, the United States, and France helped ahead of the Kazan summit.
Some breathing room before the next presidential elections in Baku, as well as in the more politically pluralistic Yerevan, is an additional factor that could make Azerbaijani President Ilham Aliyev and Armenian President Serzh Sarkisian more open to compromise.
Medvedev's Investment
A "key new element," de Waal adds, is Russian President Dmitry Medvedev's increased attention to the peace process. Kazan marks the fifth meeting the Russian leader has convened between Sarkisian and Aliyev, and he has helped to craft the highly finessed phrasing of the principles.
Washington has publicly welcomed the Russian efforts, despite uneasiness among some in both the West, as well as in the Caucasus, about Moscow's motives in the region -- with memories of the August 2008 war in Georgia still fresh.
Nevertheless, de Waal says, Medvedev's personal investment increases the consequences of failure at Kazan.
"I think after 2008 and the Georgia war, he and some others in the Russian establishment decided, having lost Georgia, that they needed to work harder on Armenia and Azerbaijan," de Waal says. "Medvedev was striking up quite a close relationship with Azerbaijan, and to do that effectively, you need to take the Karabakh issue seriously.
"Since then, I think, he has gotten involved. He sees it as a matter of prestige for him -- he wants to be a peacemaker - and it's also another sign in his kind of bid for reelection [in 2012] that he works well with Western partners. Failure at Kazan would also be a failure for Medvedev."
Narrowed Differences
There has also been public acknowledgment from both the Armenian and Azerbaijani sides that progress is possible this time around.
At another Russian-hosted meeting on June 11, Armenian Foreign Minister Eduard Nalbandian and his Azerbaijani counterpart, Elmar Mammadyarov, said they narrowed differences "on a number of key issues on the basic principles for resolving the Nagorno-Karabakh conflict."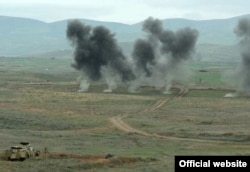 Karabakh Armenian forces hold military exercises.
Speaking to reporters on June 22 ahead of a speech to European parliamentarians in Strasbourg, Sarkisian said he was heading to Kazan in hopes of finding a "common denominator."
"I will go to Kazan with optimism and will indeed wish for us to come to the common denominator," Sarkisian said, "because both Armenia and Nagorno-Karabakh are largely interested in the fastest solution. We need a solution that will bring about a fair and lasting peace. The document that will be discussed in Kazan is not the document that Armenia has dreamed about, but it gives us an opportunity to continue working toward a big agreement. So, if we meet with a constructive approach, if Azerbaijan does not advance new proposals, I think we can expect positive results."
Aliyev, speaking on the same day in Brussels alongside European Commission President Jose Manuel Barroso, identified this as an "encouraging moment" -- so long as new momentum means an end to Armenian "occupation."
"We are the victims of this aggression and therefore, the moods in our society are different from the moods of the society in Armenia," Aliyev said. "That's why when we hear from President Barroso [and] from leaders of leading countries of the world that the status quo must be changed, this is [an] encouraging moment. Change of [the] status quo means change of the situation and [the] end of occupation."
Tough Sells
Analysts say getting Aliyev to sign on to the basic principles in Kazan will be a greater challenge than sealing Sarkisian's approval.
If Yerevan and Baku do reach agreement, the sighs of relief won't last long.
The principles would be tough sells for both presidents, who would seek to convince their respective publics and political elites that the deal is favorable to their own side.
E. Wayne Merry, a senior associate at the American Foreign Policy Council in Washington, says concessions Sarkisian recently made to the opposition -- allowing demonstrations, freeing political prisoners, and entering dialogue with the opposition -- may have been made with post-Kazan considerations in mind.
"Obviously, many people are wondering why the Armenian government has been reaching out to some parts of the political opposition -- particularly to Levon Ter-Petrossian, the former president," Merry says. "One can speculate as to what the reasons are, but one obvious area of speculation is that Sarkisian wants to engage Levon Ter-Petrossian because something serious might actually come out of the summit meeting in Kazan and the Armenian government would need a broader base of political support at home in order to be able to make anything of that."
Ter-Petrossian lost power in Armenia in 1998 due in part to his support for a deal similar to the principles now on the table.
Military Displays
Continuing shows of military might in both Armenia and Azerbaijan, while they may reassure the public of their governments' defense capabilities, could also undermine progress.
Armenia's military recently said it is equipped with drones, matching Azerbaijani capabilities. Yerevan has reportedly expressed interest in acquiring Russian rocket artillery systems and a massive military parade is being planned in Baku in the days after the Kazan talks.
Also looming are thorny questions that the principles leave for later negotiations, most notably that of a referendum that would one day determine the final status of Nagorno-Karabakh.
De Waal says he has gathered from mediators that Baku concedes the vote would be for Nagorno-Karabakh residents and not for all citizens of Azerbaijan, but it remains undecided whether persons displaced from the territory would participate, and whether it would take place before or after resettlement.
Mediators hope that putting off those questions will provide a window for a further reduction of tensions, aided by an international peacekeeping force, as well as for progress in rebuilding Nagorno-Karabakh.
They also hope that points of contention in the future won't prevent the parties from taking action now, when there seems to be a chance.
RFE/RL's Armenian and Azerbaijani services contributed to this report