The number of Heydar Aliyev museums and centers dedicated to the memory of the former Azerbaijani president (and father of the current incumbent Ilham Aliyev) is rising in the country on a daily basis.
There are already more than 50 such museums in Baku and its environs, even though there does not seem to be much public interest in them.
An RFE/RL Azerbaijani Service correspondent visited one of the largest museums in Baku on July 14.
The RFE/RL journalist was the only visitor to visit the museum that day, despite the fact that this date is the anniversary of Heydar Aliyev's appointment as first secretary of the Communist Party Central Committee in 1969, which was celebrated with much fanfare and a fireworks display by Baku city authorities.
This lack of visitors was an abberation according to Sadaqat Seyidzadeh, who is the director of the six-storey, 800 square-meter facility in the centre of the Azerbaijani capital. She insisted that people visit the museum almost every day.
"Students and teachers from almost all schools in the [local] Yasamal district have come to see this museum," she said.
"We have agreements with schools. They come to have lectures on Heydar Aliyev as well".
There is a glaring absence, however, of any entries in the museum's visitors' book by ordinary people off the street.
No Personal Belongings
Exhibits include small Heydar Aliyev monuments, copies of his diplomas, and a few medals.
Sadaqat Seyidzadeh claims a statue depicting Heydar Aliyev and his wife sitting and smiling at each other is her most treasured exhibit.
"It is my favorite one," she says. "Look at their features. What a smile on their faces; look at their eyes…"
Photos depicting Heydar Aliyev's activities, frequently published in government papers, also cover the museum walls.
Nonetheless, there are no personal possessions, not even a single pen that belonged to Heydar Aliyev, to be found anywhere in the museum.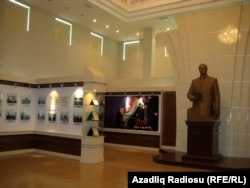 The musuem employs five people and has a half-yearly budget of around $100,000.
Seyidzadeh told RFE/RL that this was because the museum had been newly established and had therefore been unable to obtain these kinds of objects yet. She did add, however, that the "exhibits can be increased in future."
This Heydar Aliyev museum has five employees with monthly salaries ranging from 89 to 200 manats (ca. $110-255).
The director says 80,000 manats (ca. $100,000) has been allotted to the museum from state budget for six months of this year.
Mixed Reception
When the RFE/RL correspondent asked people on the streets around the museum what they thought of the institution, the reaction was decidedly mixed.
A 50-year old Baku resident named Amrah, who described himself as a "businessman," said he has often visited it, and that it was an "exemplary" place "bearing the name of our leader." He added that Azerbaijanis "have never forgotten" Aliyev.
Other residents RFE/RL spoke to were less enthusiastic.
"I've never been there," said one passerby. "We hardly make both ends meet. We are not interested in him."
Another said they hadn't gone to the museum because "they cannot afford it."
Scissors And A Tray
When an RFE/RL correspondent visited another Heydar Aliyev museum in Khirdalan some two years ago, she saw a total of two Heydar Aliyev artifacts – scissors, which the former president used in a ribbon-cutting ceremony, and a golden tray.
Incidentally, there is not a single museum in Baku or its surrounding districts which is dedicated to Mammad Amin Rasulzadeh, the founding father of the Azerbaijan Democratic Republic.
His grave is in Turkey, so every year opposition activists go to his native village of Novkhani to pay their respects at the single monument dedicated to him there.
-- Arife Kazimova