Russian Organizers Fly Polish Students To Crimea Instead Of St. Petersburg On 'Educational' Trip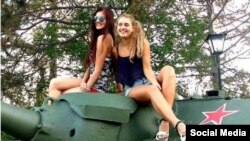 A handful of Polish teens unwittingly fell afoul of Ukrainian law when they were shepherded to Crimea by their hosts after winning Russian culture and literature contests.
And officials in Poland suggested to RFE/RL's Ukrainian Service that the Russian organizers of the prizewinners' trip duped them into thinking the kids would stay away from the forcibly annexed peninsula.
The group of 10 or so high-school students apparently planned on traveling for a week around Moscow and St. Petersburg as part of their prize.
But instead, less than a day after arriving in the Russian capital, they were put on a plane to Crimea, which was seized from Ukraine early last year.
An itinerary posted to the Russia-based Center For Russian-Polish Dialogue And Understanding foundation's website suggests the students have spent the days since their September 19 arrival in Moscow traveling extensively throughout the peninsula, visiting various landmarks connected to Russian history.
But the trip isn't purely cultural -- the itinerary suggests the group will also meet with Crimean officials installed by Russia since it declared the area part of the Russian Federation in March 2014.
A nonprofit group based in Bialystok, Poland, called the Russian Cultural And Educational Society held the cultural contests, but the Russian nonprofit, the Center For Russian-Polish Dialogue And Understanding, sponsored the students' trip.
Anna Marek, a spokeswoman for the Department of Education in the Podlaskie region, where Bialystok is located, told RFE/RL's Ukrainian Service that officials had been made aware of the Russian plans to take the Polish students to Crimea but said there was a subsequent request to change the proposed program. They were later reassured that the children would visit St. Petersburg instead of Crimea, she said.
"At least that is what we were told on September 11," said Marek. "The head of the department [of education] requested the final trip agenda, but we never received it."
Poland joined most of the world in rejecting Moscow's annexation of Crimea, and under Ukrainian law it is illegal to travel to the peninsula via Russia.
The Warsaw-based Center for Polish-Russian Dialogue And Understanding, which was founded by an act of the Polish parliament (and should not be confused with the Russia-based Center For Russian-Polish Dialogue And Understanding, to which it has no connection), wrote on its Facebook page that those organizing such activities should be banned from using public funds.
"We warn Polish entities not to organize trips to Crimea, the occupied territory of Ukraine, for Polish citizens," the group said in a statement. "Visits of this kind can result in participants being refused entrance to Ukraine and other countries that don't recognize Crimea's annexation."
The Russia-based Center For Russian-Polish Dialogue And Understanding paints a different picture on its website, describing the students' trip to the "unique peninsula of the Black Sea with, perhaps, the most eventful history in the existence of mankind."
Yury Bondarenko, the organization's director, tweeted a photo of himself in a "Crimea, Russia" T-shirt under the #CrimeaOurs hashtag on September 24, following several days of sharing photos of the students.
A September 20 tweet from Bondarenko's account shows a group of teenagers on a plane. "I'm flying from Domodedovo [airport in Moscow] to Crimea with a group of Polish youngsters. With girls who were not scared of pressure from authorities!"
"Mount Sapun in Sevastopol. Polish girls took over a Russian tank," says another tweet.
Bondarenko was earlier quoted in the Polish press as saying he wanted to show students the places that have a connection to Russian history.
"I consider Poland to be a democratic state where people have a right to assess a situation themselves," he said.
Russian media have been tracking the trip, and one student reportedly told Russia's state English-language international broadcaster RT that she was "happy that I am here":
The students were the main prizewinners in two recent contests held in Poland -- one on "Knowledge of Russia" and the other a "Russian Poetry Reading." For the past 12 years, winners have been rewarded with trips to Russia.
This year marks the first time Crimea was on the travel itinerary.
About This Blog
Written by RFE/RL editors and correspondents, Transmission serves up news, comment, and the odd silly dictator story. While our primary concern is with foreign policy, Transmission is also a place for the ideas -- some serious, some irreverent -- that bubble up from our bureaus. The name recognizes RFE/RL's role as a surrogate broadcaster to places without free media. You can write us at transmission+rferl.org