Remember Czech artist David Cerny's "Entropa"? The sculpture, which showed
stereotypes of all 27 EU member states
, was perhaps the most memorable symbol of the otherwise ill-fated Czech EU presidency in the first half of 2009.
Whenever a new country
takes over the rotating presidency
, it usually lets one of its artists decorate the atrium of the EU Council building in Brussels. While Cerny's depiction of a Europe in which Bulgaria was portrayed as a series of connected "Turkish" squat toilets (which was later covered after Sofia issued a formal complaint) and the Netherlands being submerged under the sea with only a few minarets sticking out drew scores of people to the otherwise drab council building, the new Polish artwork is unlikely to raise as much curiosity.
Tomasz Rygalik has basically grouped together 10 white lamps of various sizes at the entry of the building. The Polish artist has also designed other furniture, which will fill conference rooms and offices of the presidency.
"Attention has been paid to ensure that, as far as possible, it combines utilitarian as well as representative and image-creating features," Rygalik said.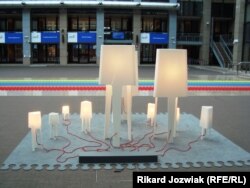 Tomasz Rygalik's lamps
The lamps, which do light up a little corner of the big, steely hall, might not stir the same controversy as "Entropa," but it is also doubtful whether they can create a the "positive image of Poland in the world," which both the artist and the Polish presidency are seeking.
Polish Prime Minister Donald Tusk might have had a more enlightened idea of how to create a positive buzz by showering the European Parliament with strawberries from his home region of Pomerania on July 6. "Their freshness and energy would be a symbol for this country's European Union presidency," he said while letting journalists and lobbyist munch away.
-- Rikard Jozwiak