Can You Survive The Pompeo Challenge? Name These Unmarked Countries
NPR journalist Mary Louise Kelly says U.S. Secretary of State Mike Pompeo -- apparently angered over some tough questioning -- summoned her to his private living room at the State Department in January and challenged her to point to Ukraine on an unmarked map. Kelly -- who has a master's degree in European Studies from Cambridge -- said she did. Pompeo later suggested Kelly had pointed to Bangladesh instead. How would you fare if you were called on the carpet by Pompeo?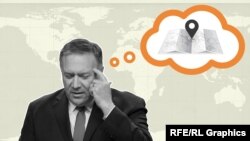 Test your knowledge!
​