Clinton E-Mail Paints Dim Portrait Of Kyrgyz Revolutionary Government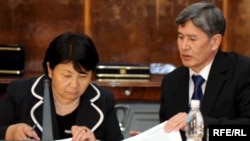 Once again, Qishloq Ovozi is pleased to feature the work of another up-and-coming authority in the field of Central Asian studies. Qishloq friend and frequent visitor Matthew Kupfer returns with a look at a recently released email sent to former U.S. Secretary of State Hillary Clinton right after the ethnic violence in Kyrgyzstan in June 2010.
Emails released by the U.S. State Department as part of an FBI investigation into former Secretary of State Hillary Clinton's use of a private email server for official government business -- which may violate State Department recordkeeping rules -- offer an intriguing, if small window into Kyrgyzstan's 2010 revolution and subsequent interethnic unrest -- at least as Clinton might have understood it.
In April 2010, protesters in Bishkek overthrew Kyrgyzstan's kleptocratic and authoritarian President Kurmanbek Bakiev and installed an interim government headed by Roza Otunbaeva. Two months later, clashes between ethnic Kyrgyz and Uzbeks in the city of Osh exploded into four days of interethnic rioting across southern Kyrgyzstan. The violence, which left more than 470 people dead and over 100,000 homeless, largely targeted Kyrgyzstan's Uzbek minority. The events of April-June 2010 came at a time of high U.S. government interest in Kyrgyzstan, where the Pentagon maintained an air base to support the war in Afghanistan.
Since 2010, Central Asia watchers have debated several aspects of Kyrgyzstan's interethnic conflict: the degree to which the violence was planned or organized, ousted President Bakiev's role in the unrest, and the possible participation of organized criminal structures in the chaos. Some scholars, such as Eric McGlinchey and Erica Marat, respectively, have also looked at the role that decisions by the interim government and the culture of the Kyrgyz security forces may have played in the breakdown of law and order in southern Kyrgyzstan. Still, many of the central issues in the unrest remain unclear and there are conflicting narratives of the violence.
A June 17, 2010 e-mail to Clinton, titled "Kyrgyzstan crisis, report and recommendations," provides a glimpse into the kind of information the secretary of state received in the wake of the violence. The message shows Clinton confidant Sidney Blumenthal passing on a report by lawyer and journalist Scott Horton, a trustee of the American University of Central Asia who had recently returned from intensive meetings with the Kyrgyz interim government.
Horton's report, replete with policy recommendations for the U.S. government, paints a distinctly dim portrait of a "dysfunctional" interim government plagued by disunity and ill equipped to respond to violence that he suggests was provoked by the Bakiev regime.
'Demagogic Approach'
"[The interim government] operates as a collection of individual fiefdoms, with leaders engaged in constant squabbles over patronage appointments. Career civil service personnel report being terrorized and extorted," Horton wrote. "I spent the better part of three days inside the current government headquarters…and was able to directly observe primitive horse-trading, threats and counterthreats between key government functionaries, sometimes in agitated voices."
He described interim President Otunbaeva as "the glue that holds things together" and the only official commanding respect from all the other players, who often appeared more concerned with jump-starting their own parliamentary campaigns than with the business of stabilizing the country.
Specifically, Horton painted the pugnacious Azimbek Beknazarov, then deputy prime minister in the interim government, as "hot-headed and crass and an untrustworthy partner in any future discussions." He suggested that Beknazarov took a "demagogic approach" to the Pentagon's controversial Manas Transit Center, calling for the air base's closure, but actually planning to use the base as a key issue in his parliamentary campaign and "as a sort of stick to use to extort more money and other concessions from the Americans."
Similarly, Horton wrote, Almazbek Atambaev -- Kyrgyzstan's current president, elected in 2011 --"also has somewhat demagogic impulses, though they are mild by comparison." Otunbaeva, in contrast, served as the "voice of reason" on the Manas base. (The transit center closed last year, after the Kyrgyz government declined to extend Washington's lease.)
Horton also reported that, as the Kyrgyz interim government proposed a new constitution strengthening the role of parliament over the presidency, it faced opposition from neighboring Kazakhstan. Kazakh President Nursultan Nazarbaev reportedly pressured Bishkek to retain a strong presidency using "not-very-subtle threats" and restricted access to the economically critical Kyrgyz-Kazakh border, which Kazakhstan closed following the Kyrgyz revolution.
Although he left the country before the interethnic violence erupted, Horton wrote that the interim government expected the ousted Bakiev and his associates to provoke unrest in the South, his political base, but that the government was unprepared for the interethnic element.
Horton suggested that the violence was led by police and military leaders with close ties to the former president (security forces' failure and misconduct were essentially proven by the independent Kyrgyzstan Inquiry Commission investigation after the unrest). "Bakiev was the only person who clearly had something to gain from the violence," he concluded, later writing that "[Bakiev's] objectives would have been to derail the [upcoming constitutional] referendum, demonstrate the weakness of the interim government, and fuel calls for an iron-fisted central government through the resurrection of his presidency."
Horton also argued that criminal gangs and drug traffickers likely played a role in the unrest, possibly after being paid by political actors, although he did not identify the source of this information.
Intriguing Questions
The solution to the crisis in the south, Horton suggested, lay in the democratization of both regional and national governance in Kyrgyzstan and cooperation between the United States and Russia to jointly sponsor an international humanitarian initiative. Such an initiative, he wrote, would include an exit corridor for civilians in the conflict zone, a peacekeeping operation, an independent investigation of the unrest backed by a credible international organization, and internationally monitored elections.
It is unclear whether Horton's memo influenced U.S. policy, although several aspects of the humanitarian initiative were eventually put into place. However, in a subsequent e-mail, Clinton instructed her assistant, Lauren Jiloty, to print out three copies of his message.
Horton's report paints a colorful and intriguing picture of tensions within Kyrgyzstan's revolutionary government. But his account of the June 2010 interethnic violence also raises some interesting questions. Having left the country before the start of the unrest, Horton appears to have been largely reliant on his high-level Kyrgyz contacts for information on the violence. His narrative stays fairly close to that of the interim government, which insisted that the unrest was a clear "provocation" by Bakiev and his associates. The claim is not outlandish, but it also is far from certain. To what degree was Secretary Clinton hearing alternative views, such as the diverse accounts I heard as an eyewitness to the violence in Osh? To what degree was she hearing about other factors in the unrest -- surging Kyrgyz ethno-nationalism, regionalism, economic rivalry between ethnicities, and the proliferation of provocative rumors of abuses committed by the other ethnic group?
Three days after writing the report that reached Clinton, Horton teamed up with Baktybek Abdrisaev, Kyrgyzstan's ambassador to the United States from 1997 to 2005, and published an op-ed on CNN.com in which they argued the "methodical and clearly well planned" violence was likely provoked by Bakiev and escalated by criminal groups and drugs traffickers eager to settle scores. Thus, it was not really an ethnic conflict, but an external provocation. They also advocated a joint U.S.-Russian humanitarian initiative like the one Horton had previously outlined.
I can't say for sure Horton was wrong. But I sure hope his report isn't the only one that reached Clinton -- either through her State Department inbox or her private one.
Matthew Kupfer is a writer focusing on Central Asia, Russia, Ukraine, and the former Soviet Union. His work has been published in EurasiaNet.org, the Moscow Times, Eurasia Outlook, and Registan.net. Previously a Junior Fellow at the Carnegie Endowment for International Peace, he is currently pursuing an M.A. in Russia, East Europe, and Central Asia regional studies at Harvard University. The views expressed in this blog are his own. You can follow Matthew on Twitter (@Matthew_Kupfer)
About This Blog
Qishloq Ovozi is a blog by RFE/RL Central Asia specialist Bruce Pannier that aims to look at the events that are shaping Central Asia and its respective countries, connect some of the dots to shed light on why those processes are occurring, and identify the agents of change. Content will draw on the extensive knowledge and contacts of RFE/RL's Central Asian services but also allow scholars in the West, particularly younger scholars who will be tomorrow's experts on the region, opportunities to share their views on the evolving situation at this Eurasian crossroad. The name means "Village Voice" in Uzbek. But don't be fooled, Qishloq Ovozi is about all of Central Asia.