Majlis Podcast: Now That The Money Is Gone -- Turkmenistan After AIMAG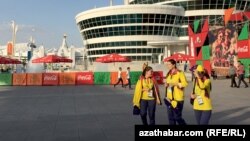 The latest Majlis podcast looks at the situation in Turkmenistan now that the Asian Indoor and Martial Games (AIMAG) that the country hosted have ended.
Listening to Turkmen President Gurbanguly Berdymukhammedov, it would appear that the situation in the country is fine and he has spoken about big plans to spend billions of dollars in the coming years.
However, recent developments inside Turkmenistan since the AIMAG closing ceremony on September 27 suggest that the situation is anything but fine.
Muhammad Tahir, RFE/RL's media relations manager, moderated a discussion that took a good look at what the current situation is like in Turkmenistan.
We were joined from Scotland by Doctor Luca Anceschi, a professor of Central Asian Studies at Glasgow University. Farruh Yusuf, the director of RFE/RL's Turkmen Service, known locally as Azatlyk, also took part and I had a few things to say as well.
Listen to the podcast above or subscribe to the Majlis on iTunes.
About This Blog
Qishloq Ovozi is a blog by RFE/RL Central Asia specialist Bruce Pannier that aims to look at the events that are shaping Central Asia and its respective countries, connect some of the dots to shed light on why those processes are occurring, and identify the agents of change. Content will draw on the extensive knowledge and contacts of RFE/RL's Central Asian services but also allow scholars in the West, particularly younger scholars who will be tomorrow's experts on the region, opportunities to share their views on the evolving situation at this Eurasian crossroad. The name means "Village Voice" in Uzbek. But don't be fooled, Qishloq Ovozi is about all of Central Asia.
Latest Podcasts