Turkmenistan: The Cult Of Profligacy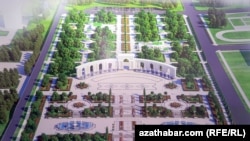 It rests on a 15-meter-high slab of white marble, but it's really built on the crushed spirits of the Turkmen people.
I am referring, of course, to Turkmenistan's latest monument to vanity -- a 6-meter-high, gold-covered sculpture of Turkmen President Gurbanguly Berdymukhammedov riding a horse and holding a dove.
The statue made international news when it was unveiled to much fanfare on May 25, but it must have been a hollow celebration for the average citizen, who could have benefited greatly from the money wasted.
And no, I do not believe President Berdymukhammedov when he says the people of the country, where the average monthly wage is some $300, were calling for the construction of the statue.
The unveiling was widely reported by international media and the word "eccentric" was a frequent fixture in articles.
Me? I felt disgusted, sick, like I was watching a bad movie I'd been forced to watch a hundred times before.
There is worse to come, and soon -- a new park is about to open in Ashgabat. But before I get to that there are some things worth recalling.
Articles about the new statue noted that Berdymukhammedov's predecessor, Saparmurat Niyazov, started the personality cult that is now a characteristic of the country's leadership.
While I was roaming around Central Asia in 1992-93 I was in Turkmenistan often. I was there for the birth of the cult of personality in Turkmenistan and I watched it grow.
The Ashgabat I remember was a reddish-clay colored city. It was built from local materials and seemed to blend into the hills behind it.
Pictures of Ashgabat today show a white city -- white marble, actually, like the pedestal of Berdymukhammedov's new statue. This is the result of successive waves of urban-renewal projects that have simultaneously pushed residents further and further toward the edge of the city.
It began in 1994, when the ministries were ordered to each build new five-star hotels in Ashgabat. Apartment complexes were razed and hotels that have rarely, if ever, exceeded 30 percent occupancy took their place. Price tag -- $1.5 billion.
The ministries were ordered to construct new grandiose buildings for themselves and more homes were demolished and more people pushed out of the center of the city. Many of the ministry buildings were not completed until the middle of the last decade. I couldn't find an estimate for the cost of all of that construction (though I did find the Construction Ministry building cost, which was $55.2 million) but I'll mention that the four tallest buildings in Ashgabat are ministry buildings.
Then came the monuments, such as the revolving golden statue of President Niyazov that always kept its face turned toward the sun. Cost -- $12 million. Again, more old buildings razed, more people sent to Ashgabat's periphery.
It wasn't long after the monstrous revolving statue was built that RFE/RL's Turkmen Service, known locally as Azatlyk, started hearing stories from locals that it was not only homes that were affected. Ashgabat is a relatively new city by Central Asian standards. Prior to the arrival of the Russians in the late 19th century, there wasn't much there (true also of Almaty, Bishkek, and Dushanbe).
As the city grew, and people died, land was necessarily allocated for cemeteries and the city continued to grow around these "final" resting places. But under Niyazov, cemeteries were impediments to the construction of a magnificent capital. So, the bodies were dug up and transferred to hastily built new cemeteries lying on the edge of the desert, and placed in shallow graves that were then plundered by jackals that carried the bones of people's grandparents and great-grandparents back into the desert.
Leaving Ashgabat and moving forward to the year 2004, Niyazov decided to spend $8 billion to construct an artificial lake in the middle of the Gara-Gum Desert (the original estimate in 2000 was $4.5 billion). Environmentalists warned at the time that a great amount of water drained from the lower reaches of one of Central Asia's great rivers, the Amu-Darya, would be lost in the sand and further desiccate the Aral Sea. More than a decade later work continues on the lake.
Skipping ahead a couple of years, an 11-kilometer-long artificial river was built through Ashgabat. It flows down gently sloping terrain, collects at the end of the "river," and is pumped back up to the top to flow downward again. Along either side are parks with fountains. Unfortunately, many of the trees planted in these parks died within the first few years after the river project was launched.
The reported cost of the "river"? A mere $63 million.
That all happened during the Niyazov era but Berdymukhammedov has proven equally profligate. Berdymukhammedov said in late 2009 he would spend some $12 billion on construction and then a few months later increased that figure to $23.6 billion, some of which would be spent building the Avaza Caspian resort area, including the fences surrounding the complex that are there to keep the people of Turkmenistan away.
In October 2011, the Russian news agency ITAR-TASS reported that some $1.4 billion had already been spent on Avaza. In July 2013, Berdymukhammedov ordered 10 new buildings constructed for the nearly deserted resort.
As for Berdymukhammedov himself, he lives in the Oghuzkhan Presidential Palace, built by Niyazov at a cost of some $250 million. Berdymukhammedov has been seen driving a Bugatti Veyron sports car with a price tag of some $2 million.
And now -- the park. Sometime before, or on, Berdymukhammedov's June 29 birthday a massive park will open in Ashgabat. Azatlyk has an artist's rendering of this new public space and it does look very impressive, and costly, though there is no official word on the amount of money spent on the project.
That it's opening so soon after a useless statue to Berdymukhammedov was unveiled (and amid the ongoing destruction of Ashgabat residents' homes, without any compensation being offered for the losses) just emphasizes how little the Turkmen authorities care about the people of Turkmenistan.
In 1992, President Niyazov said his country would become the next Kuwait and everyone would be driving a Mercedes. Instead, in Ashgabat, they're crowding into the homes of relatives where they can share intermittent supplies of water and electricity.
But at least they can gaze at elaborate statues, opulent buildings, and imagine what it might be like to spend a vacation at Avaza.
-- Bruce Pannier, with contributions from RFE/RL's Turkmen Service
About This Blog
Qishloq Ovozi is a blog by RFE/RL Central Asia specialist Bruce Pannier that aims to look at the events that are shaping Central Asia and its respective countries, connect some of the dots to shed light on why those processes are occurring, and identify the agents of change. Content will draw on the extensive knowledge and contacts of RFE/RL's Central Asian services but also allow scholars in the West, particularly younger scholars who will be tomorrow's experts on the region, opportunities to share their views on the evolving situation at this Eurasian crossroad. The name means "Village Voice" in Uzbek. But don't be fooled, Qishloq Ovozi is about all of Central Asia.
Latest Podcasts