Journalist Questioned In Turkmenistan Over Fresh Meat Story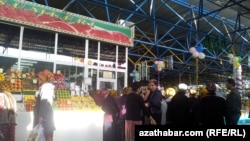 Turkmenistan is a strange place. Lots of people know the government there is not exactly media-friendly but on occasion it is possible to cover social issues, especially when some event appears to be a change for the better.

Of course, no one is sure where the line is between the acceptable and unacceptable when it comes to reporting in Turkmenistan. And most times the only way to find out is to try to do a report and see if the police or security forces arrive.

It's true that not many media organizations can report from Turkmenistan on a regular basis. RFE/RL's Turkmen Service, known locally as Azatlyk, does and its correspondents just discovered one of the boundaries in reporting.

For unclear reasons, the Turkmen government recently ordered that the price of fresh meat, mostly beef and mutton, should be lowered to 12 manat (not quite $4) per kilogram and made widely available at shops and bazaars around the country. It just happened to be the anniversary of the UN giving Turkmenistan official status as a "neutral country" and New Year is approaching, so maybe one of those events, or a combination of the two, prompted Turkmen authorities to make this gesture.

There is a downside to this story and we'll get to that in a minute.

It turns out that fresh meat is usually is hard to find, so naturally people have been lining up to buy it while it is available. There are limits on how much can be purchased, between two to five kilograms at a time, depending on the region.

Among those hurrying to the Mir Bazaar in Ashgabat to take advantage of this deal was Soltan Achilova, an Azatlyk correspondent. The line was long at 9 a.m. in the morning on December 13, but the mood at the bazaar was good as people waited to buy fresh, not frozen, meat.

Achilova saw potential to do a report about people queuing up to purchase this treat. She said she had started to take pictures when "suddenly, four or five people in civilian clothes grabbed me and started tugging on my camera." They took the camera and started asking questions while demanding to see identification documents. Achilova said one of them briefly flashed a police badge.
Achilova identified herself and told them she was from Azatlyk. She said the people knew her name and some of them even said, "So you're the Soltan from Azatlyk" and asked her why she was not ashamed to work for such an organization.

Achilova asked those questioning her to say what she had done. By then it was obvious people at the bazaar were watching this disturbance and the questioners hustled her outside to the street.

These people in civilian clothes huddled together to talk and finally called for the police to send a car. Thirty minutes later the car arrived and Achilova was taken to the Kopet Dag District police station where she waited for an hour until a clerk came and started a new round of questioning.
The questions included what her children did and what her husband did. When Achilova replied that her husband had passed away 16 years earlier, the clerk still persisted in asking what her husband did for a job when he was alive. Achilova said the clerk "wrote down all the details."
Deleted Photographs

After being released from questioning, Achilova went to complain to a police officer, telling the officer of the rude treatment she received at the bazaar. This policeman apologized on behalf of the people who detained her and gave Achilova her camera back.

Of course, all the photographs had been deleted.

What Achilova did wrong is still a mystery. But there is a clue.

Another Azatlyk correspondent was interested in covering the story about the sudden availability of meat from a different angle.

I am not at liberty to discuss all the details of what happened to this correspondent but I can talk about the topic they were exploring.

There are two elements. The first is the long lines, which started out to be 20 to 30 people when fresh meat first appeared but, after word spread, this quickly grew to be 70 to 80 people at most places around Turkmenistan.

Was fresh meat for sale really such a big deal? What was happening all these years when people could usually only obtain frozen meat?

Second, what about those selling meat? The government ordered that meat should be sold at an artificially low price. That has apparently put some merchants out of business, or at least prompted them to close up shop until prices go back to normal and they can make a profit, not a loss, from their work.

This might also account for the ever-longer lines at those places that are still selling meat.

As mentioned above, it is not easy to know what is and is not a fair topic for coverage in Turkmenistan. I did an article on this earlier this year and clearly the situation has not improved since then.

-- Bruce Pannier, with contributions from RFE/RL's Turkmen Service director, Muhammad Tahir
About This Blog
Qishloq Ovozi is a blog by RFE/RL Central Asia specialist Bruce Pannier that aims to look at the events that are shaping Central Asia and its respective countries, connect some of the dots to shed light on why those processes are occurring, and identify the agents of change. Content will draw on the extensive knowledge and contacts of RFE/RL's Central Asian services but also allow scholars in the West, particularly younger scholars who will be tomorrow's experts on the region, opportunities to share their views on the evolving situation at this Eurasian crossroad. The name means "Village Voice" in Uzbek. But don't be fooled, Qishloq Ovozi is about all of Central Asia.
Latest Podcasts