New Hudjum Campaign Hits Eastern Uzbekistan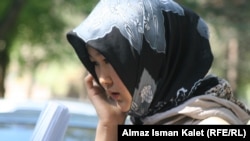 It started during the morning of April 22 at bazaars in the eastern Uzbek cities of Kokand and Margilan. Members of Uzbekistan's National Security Service (SNB) in civilian clothes made their way through the crowds and forced women wearing head scarves to remove them.
The SNB agents did not explain their actions but the motive was obvious and part of a growing belief by governments in Central Asia that Islamic clothing leads to Islamic radicalization.
RFE/RL's Uzbek Service, known locally as Ozodlik, reported on the bazaar raids. The SNB were back on April 23 just to ensure everyone understood this new "hudjum" was policy, not a one-day event.
One woman said she removed hear head scarf when the SNB confronted her, then put it back on after they left, only to be spotted and again asked to take it off. She finally left the Ipak Chilar Bazaar and put her head scarf back on after she was a safe distance away
One person told Ozodlik that the SNB had taken the head scarf from a woman who appeared to be 50 or 60 years old.
The first "hudjum" dates back to 1927 when the Soviet government forced women to stop wearing scarves, veils, or burqas.
Officially the hudjum was meant to liberate women in the conservative areas of Central Asia that became part of the Soviet Union.
Unofficially, authorities in Moscow viewed such clothing as a sign of backward peoples, and the Soviet Union was going forward.
Soviet officials literally ripped the scarves and veils off women in some cases. Some women who went along with the hudjum campaign were killed by their pious menfolk.
The second hudjum happened in 1987 when Rano Abdullaeva, the Uzbek Soviet Republic's secretary for ideology, sent Komsomol members to enforce the hudjum.
Abdullaeva, dubbed "Temir Khotun," (the Iron Lady), also insisted that women should not have head scarves on when they were being photographed or even in paintings.
This latest hudjum campaign is apparently not aimed solely at women. Ozodlik reports that men wearing the traditional "doppi," the black skull cap have also fallen out of favor with the authorities. No one has commented on why this is the case, although it is possibly because the black-and-white color scheme of the doppi is somewhat reminiscent of the flag of the Islamic State militant group.
Fines for those caught wearing the classic doppi go as high as 200,000 som (about $75).
-- Bruce Pannier, with contributions from Barnohon Isakova and Shukrat Babajanov from RFE/RL's Uzbek Service
RFE/RL' Uzbek Services coverage of this story can be found here
About This Blog
Qishloq Ovozi is a blog by RFE/RL Central Asia specialist Bruce Pannier that aims to look at the events that are shaping Central Asia and its respective countries, connect some of the dots to shed light on why those processes are occurring, and identify the agents of change. Content will draw on the extensive knowledge and contacts of RFE/RL's Central Asian services but also allow scholars in the West, particularly younger scholars who will be tomorrow's experts on the region, opportunities to share their views on the evolving situation at this Eurasian crossroad. The name means "Village Voice" in Uzbek. But don't be fooled, Qishloq Ovozi is about all of Central Asia.
Latest Podcasts