Coronavirus Quiz: Who Was That Masked Man (Or Woman)?
The use of face masks is becoming common in countries around the world to prevent the spread of the coronavirus. The U.S. Centers for Disease Control (CDC) recently recommended people wear face masks or face coverings in public, although U.S. President Donald Trump said he didn't think he would follow the CDC's advice. But other world leaders have taken such advice to heart. Can you name these 10 masked presidents or prime ministers and answer some coronavirus trivia about each one?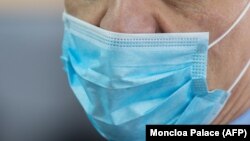 Test your knowledge!
​