WATCH: Hungarian-American financier and philanthropist George Soros visit a Prague elementary school with high numbers of Roma children
.
Financier and philanthropist George Soros accused the Czech Republic and its prime minister, Petr Necas, of doing nothing to end the segregation of Roma children in public schools.
"He could do it if he wanted to," the Hungarian-born American said after a visit to two schools in central Prague with a high proportion of children from the Roma and other socially excluded groups.
Soros was on a three-day visit to the Czech capital, during which he attended a meeting of the Decade of Roma Inclusion, an initiative his Open Society Fund and the World Bank launched in 2005. It now includes 12 mostly Central and Eastern European countries and global organizations.
During the meeting, Macedonia took over the chairmanship of the initiative from the Czech Republic.
Over the past few decades, Soros has spent 8 billion dollars of the fortune he earned on Wall Street, as one of the most successful investors and speculators of recent times, to promote democracy, human rights and education through projects, scholarships and grants in former communist countries in Central, Eastern and Southeastern Europe.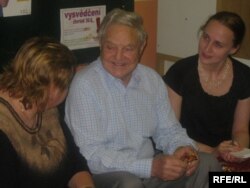 George Soros (centre) maintained that the Czech government had the capacity to end Roma segregation .
On June 28, Soros visited an elementary school in Prague's Zizkov neighborhood, which is predominantly attended by Roma children. He heard from its principal Irene Mesnerova about the progress achieved despite the lack of assistance from the government, before visiting an art class.
Soros then went to another school in Prague's poor Karlin district, where he said during a panel discussion with teachers and nongovernmental workers that he had told Necas that the Czech Republic has the financial means, institutional capacity and experience from previous successful projects to end the segregation.
"So it's a terrible thing they are not doing it because the problem is solvable and is not being solved and after they started doing it they stopped it," he said, after he took a tour of the school and mingled in the schoolyard with children dressed in suitable outfits for a day of sports and fun.
Soros was told that the government had launched a national action plan following the European Court on Human Rights 2007 ruling on the segregation of Roma children, which said that a disproportionally high percentage -- up to 35 percent -- of them were placed in schools for children with special needs.
But all activities came to a virtual halt two years later, according to Filip Rames, the Open Society Fund's human rights and discrimination program manager in the Czech Republic
"Unfortunately, because of some political changes, the education minster left the ministry and the team of people that had been created in 2008 was slowly dismissed," he told RFE/RL. "The people were fired or they left the ministry because they couldn't work in that environment."
'Staggering' Levels Of Social Exclusion
Government figures put the number of Roma in the Czech Republic at 10,000 but Rames said the real number could be more than 200,000.
He also cited recent research which indicated that a staggering 80,000 of them were socially excluded; deprived of health and social protection and without proper access to education and jobs.
Often, Rames said, mentally and physically healthy Roma children are placed in schools for children with special needs. In some cases, half of the pupils in these schools come from the Roma community.
Rames added that, although 85 percent of Roma children complete elementary school, 40 percent of them fail to finish their secondary education.
Soros said the situation in the north-eastern town of Ostrava was particularly worrying because public elementary schools refuse to admit Roma children, and their community is being ghettoized.
Outside of the Czech Republic, he said the situation is particularly dire in Slovakia and Bulgaria.
-- Nedim Dervisbegovic