The Taliban once banned photography, movies, and use of the Internet on the grounds that they were all "un-Islamic." Now, however, the terrorist group's perspective has radically changed.
Throughout the duration of their government (1996-2001), which was toppled after the 9/11 attacks, social media did not exist.
There was not even a mobile-phone service. Nonetheless, over the past decade, the Taliban has dramatically groomed its public-relations skills.
It possesses several Internet domains, which host official content and have backup domains in case of an attack on the main website. Taliban members also use e-mail on a daily basis to communicate with journalists.
Despite persistently launching attacks on officials and killing civilians, the Taliban has yet to have a decisive military success. However, it has been trying hard to compensate for its military losses with effective propaganda warfare. The militant group cannot deny the potential of such media as tools of propaganda and recruitment.
Aiming At The Heart Not The Body
"Wars today cannot be won without media," said Abdul Sattar Maiwandi, the web editor of a Taliban website, about the importance of media in the battlefield during an interview for Al-Emarah, the Taliban's official website.
"Media aim at the heart rather than the body, [and] if the heart is defeated, the battle is won," he added, sounding just like an experienced public-relations professional.
The Taliban has even established an official "media committee" to oversee the effort, according to Maiwandi. He said a professional production studio called Al-Shahamat had been set up to produce videos.
From there, the films are distributed on Taliban websites, passed from mobile phone to mobile phone, and reach broader audiences through other outlets, such as Facebook, Twitter, and YouTube.
The Taliban has numerous accounts on Twitter, but the most active is @alemarahweb. This is the official Taliban account, which also has a link to its official website.
It is apparently run by someone with the name Mustafa Ahmadi, @alemarahweb, who initially started tweeting in Pashto and began using English last year.
The latest tweet posted from the account while this commentary was being written had the following wording: "5 puppets killed in Awba district: HERAT, Sep. 06 - At 10:00 pm last night...."
This was linked to a short article on the Taliban's website, which is named after the "Islamic Emirate of Afghanistan."
A Dissemination Tool
As of the morning on which this article was being prepared, 5,487 people were following the account -- and that number was quickly rising. There were also nearly 1,700 tweets.
The account follows four other Twitter feeds; including @alsomood, which is another Taliban Twitter account focusing on Arabic tweets.
It does not interact with its followers and is mainly used as one-way dissemination tool.
Ahmadi, who seems to be the Islamist group's social-media expert, has a Facebook account where he provides links to videos of suicide bombings and guerilla attacks on Afghan and coalition forces.
His Twitter account, @alemarahweb, is linked to his Facebook account and therefore regularly updates more than 450 friends and the public.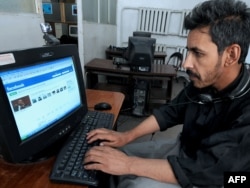 Social media now serve as the Taliban's communication centers while also helping them reach foreign financiers and sympathisers.
His Facebook settings seem to be public so that anyone, even those who are not members of Facebook, can see his activities.
Mustafa Ahmadi is also the administrator of a fan page for Mullah Mohammad Omar Mujahid, the Taliban's supreme leader. As of September 6, 196 people "liked" him.
In addition to helping it reach foreign financers and sympathizers (whom it can incite all over the world to carry out terror attacks), social-media networks also serve as the Taliban's communication centers.
The insurgents may not be able to contact each other directly, so these websites can be used to communicate with followers and sister groups in other corners of the world, and vice versa.
Although the Taliban has numerous blogs and websites, two of their official websites, Al-Emarah.net and Shahamat.info (mostly videos), are their main official tools of propaganda.
Primary Target Group Is Foreigners
Along with pictures and videos, they provide text materials in Arabic, Pashto, Dari, Persian, Urdu, and English.
As not many people have access to the Internet in Afghanistan, the primary target group is foreigners.
The Taliban reaches Afghans through pamphlets, brochures, mobile radio, audio and video CDs, magazines, and religious sympathizers.
Just like all propaganda information coming from the Taliban, their tweets and Facebook status reports are full of exaggeration.
The insurgency is gaining support not only among the Afghan people but sympathizers abroad.
The Brussels-based International Crisis Group pointed out in a 2008 report that "using the full range of media, [the Taliban] is successfully tapping into strains of Afghan nationalism and exploiting policy failures by the Kabul government and its international backers."
To some extent, the Taliban has been successful in portraying President Hamid Karzai's government as one run by corrupt, former warlords who care little for their people, and showing that it has little reach outside the capital.
Propaganda At A Miniscule Cost
The Taliban benefits from spreading these stories, at miniscule cost compared to the billions of dollars spent by the United States and its allies on development projects.
Some analysts believe the Afghan government and the international community have deliberately allowed the Taliban to communicate freely because they want to gather intelligence about the group. Even if this notion were true, the United States and its Western allies should not risk their reputation among Afghans.
When speech incites violence and murder it must be stopped. At the same time, Afghan officials need to communicate more freely: they must reach out to the media in an open and timely manner.
If there is a terrorist incident or assassination attempt, the authorities should be the first to issue a press release, not the Taliban.
Usually, the media becomes aware of attacks via the Taliban and not through Afghan or NATO officials.
Through its Twitter account, the NATO-led International Security Assistance Force mostly tweets about the training of Afghan police, or soldiers distributing candies and pencils among Afghan children.
They rarely address their own casualties and when they do it's often too late. This gives an opportunity for insurgents to step up, fill in the blanks, and reach the public first with their side of the story.
I recently asked an official at Afghanistan's Ministry of Information and Technology why this was so. "It is up to people how to use the means of communication," he answered. "Everybody can share his heart's secret or anything he wants. It does not come under any law."
Neither Afghan officials nor U.S.-led coalition forces seem to be interested in blocking the Taliban's incitement to murder and dissemination of hate across the web.
While freedom of speech is obviously a democratic value for which the West is fighting in Afghanistan, attacking Taliban propaganda head-on should be just another front in a multipronged war.
Bashir Ahmad Gwakh is a broadcaster with RFE/RL's Radio Mashaal. The views expressed in this commentary are the author's own and do not necessarily reflect those of RFE/RL