Still One Big Obstacle To Turkmen Gas To Europe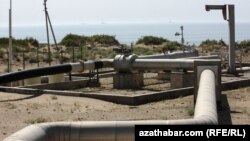 The Caspian Sea is a sea of peace and friendship.

Top officials in the five Caspian littoral states -- Azerbaijan, Iran, Kazakhstan, Russia, and Turkmenistan -- have been repeating that line for two decades.

This mantra is about to be put to the test.

Maros Sefcovic, vice president of the European Commission in charge of energy union, was just in Turkmenistan for talks on building the Trans-Caspian Pipeline (TCP), an idea that has been knocking around for two decades.

The roughly 300-kilometer pipeline would link Turkmenistan, a country with the world's fourth-largest gas reserves, to Azerbaijan, the Caspian region's gateway to Turkey and, farther, to Europe.

Sefcovic emerged from his May 1 meeting in Ashgabat with Turkmen and Azerbaijani officials saying that they had a "mutual understanding" and added that "Europe expects supplies of Turkmen gas to begin in 2019."

The agreement represents a huge breakthrough, but it comes at perhaps the worst time possible during the last 20 years.

The European Union is anxious to decrease imports of gas from Russia. Currently, Russia sends somewhere between 140 to 150 billion cubic meters (bcm) of gas annually to the EU, about 30 percent of the EU's total gas imports. The situation in Ukraine, where Russia has illegally annexed the Crimean Peninsula and is accused of supporting pro-Russian separatists in eastern Ukraine, has given the EU motivation it never had before to curtail gas supplies from Russia.

Part of the EU plan to replace Russian gas is to open the Southern Gas Corridor linking the Caspian Basin countries, primarily Azerbaijan and Turkmenistan, to Europe by pipelines through Turkey. Construction of the Trans-Anatolian Pipeline (TANAP), with an eventual capacity of some 60 bcm, started in Turkey in March.

So Russian state-controlled company Gazprom stands to lose roughly one-third of its current share of the EU gas market if TANAP is completed and filled (Turkey will receive six to 10 bcm). In recent years Gazprom's revenue has filled some 25 percent of the Kremlin's coffers. (And in April, the EU announced formal charges against Gazprom for violating EU business regulations.)

Georgia would also receive a big economic boost from transit fees for Azerbaijani and Turkmen gas transiting its territory -- something that also won't sit well with Moscow.

Russia has opposed the TCP project since it was first articulated. Russia has always argued that the status of the Caspian Sea is not yet clear. Several summits and dozens of lower-level meetings between officials from the five littoral states have still not produced a consensus on whether the Caspian is a sea, in which case all five countries have their own sectors to develop as they wish, or a lake, in which case the Caspian should be developed mutually and the profits split equally among the five.

Russia has also expressed concerns about the possible environmental consequences of a pipeline running across the Caspian Sea bottom.

Azerbaijan, Turkmenistan, and the EU have been working on their counterarguments for a half-decade. It starts with Baku and Ashgabat noting the pipeline only passes through their territorial sectors and accordingly does not require the consent of the other littoral states. They will point out every Caspian state has already been developing gas and oil fields in what would nominally be their national sectors of the sea, without any decision on the Caspian's status.

Technically, construction of the TCP is no more difficult -- and according to some much easier -- than building the Blue Stream pipeline across the bottom of the Black Sea. Russia built Blue Stream and uses it to supply Turkey with gas, and Moscow is currently pitching construction of another, bigger pipeline -- Turkish Stream -- to boost supplies to Turkey. There is also Russia's Nord Stream that supplies gas to Northern Europe, mainly Germany, via two pipelines running along the bottom of the Baltic Sea.

Azerbaijan, Turkmenistan, and the EU point to these pipelines as proof TCP could work as safely as the Russian pipelines laid across the bottoms of the Baltic and Black seas.

Iran has always supported Russia's position on the TCP and probably will hold to that, at least until the EU comes knocking on Tehran's door to ask about gas supplies.

Sefcovic addressed the ecological concerns after his meeting in Ashgabat, saying the EU had financed an ecological study of the project with the World Bank. "These are technologies which are reliable from the point of view of ecology," he said.

Russia is almost certain to file a legal challenge to the construction of the TCP. That alone could hold up the project for years.

That, though, is not the biggest concern Azerbaijan, Turkmenistan, and the EU have concerning Russia.

For all the talk of the Caspian being a sea of peace and friendship, there was never much chance it would be that way. The oil and gas in the Caspian Sea is worth hundreds of billions of dollars and the European and East Asian markets are readily accessible from the Caspian and increasingly hungry for access to new supplies.

All five Caspian states have been building up navies in the last decade, but currently, and for the foreseeable future, Russia's navy owns the Caspian. The only two agreements on the status of the Caspian were signed by the Soviet Union and Iran in 1921 and 1940. Tehran abided by those agreements since Iran was never going to be able to compete with Russian naval strength in the Caspian.

Azerbaijan, Kazakhstan, and Turkmenistan, of course, did not have any naval vessels when they became independent after the collapse of the Soviet Union in 1991, so they are far behind Russian and Iranian naval power.

Russia has been building up its Caspian navy, including the recent additions of the stealth frigates Daghestan and Tatarstan, and regularly conducts maneuvers. In fact, some 20 naval vessels just returned to their ports in Astrakhan and Makhachkala on April 28 after holding drills.
In addition, Russia has missile batteries on its shores capable of striking targets some 300 kilometers away. And, of course, the Caspian -- being an inland sea -- offers no opportunity for outside countries to intervene by sending their warships to guard gas, oil, or pipeline projects. In the Caspian Sea, Russia can dictate events.
Interestingly, Sefcovic seems to have anticipated this problem. He said during his meeting with Turkmen President Gurbanguly Berdymukhammedov that they discussed the possibility of shipping Turkmen gas through Iran.
Iran is still under international sanctions and cannot at this time engage in such a project, but recent progress in talks with world powers have raised hopes those sanctions could soon be lifted. If and when that does happen, the TCP would not be needed, so it is unclear how quickly even the EU will be moving on the pipeline across the Caspian.
-- Bruce Pannier
About This Blog
Qishloq Ovozi is a blog by RFE/RL Central Asia specialist Bruce Pannier that aims to look at the events that are shaping Central Asia and its respective countries, connect some of the dots to shed light on why those processes are occurring, and identify the agents of change. Content will draw on the extensive knowledge and contacts of RFE/RL's Central Asian services but also allow scholars in the West, particularly younger scholars who will be tomorrow's experts on the region, opportunities to share their views on the evolving situation at this Eurasian crossroad. The name means "Village Voice" in Uzbek. But don't be fooled, Qishloq Ovozi is about all of Central Asia.
Latest Podcasts