Ukraine Arrests 15 In Alleged Eastern Overthrow Plot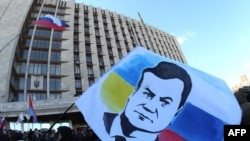 Ukraine says it has detained 15 people on suspicion of plotting to overthrow authorities in a mostly Russian-speaking eastern region.

In a statement issued on April 5, the Security Service of Ukraine (SBU) said the group "planned to carry out an armed seizure of power on April 10 in the Luhansk region through the intimidation of the peaceful population and the use of weapons and explosives."

It said 300 machine guns, an antitank grenade launcher, a large number of grenades, plus handguns and petrol bombs had been seized in the security operation.

No names or additional details about the alleged plot were provided.

The announcement came after Russia's Federal Security Service (FSB) said earlier this week that it had detained 25 Ukrainians on suspicion of planning attacks in Russia.

Also on April 5, Ukrainian Prime Minister Arseniy Yatsenyuk criticized Russia following recent price hikes for natural-gas supplies.

"The Russian government together with the company Gazprom, which is part of the Russian government, declared an unprecedented increase in the price of natural gas for Ukraine, which now amounts to almost $500 [per cubic meter]," he said. "That is the highest price in all of Europe. It is not an economic but a political price. Russia was unable to seize Ukraine by means of military aggression. Now they are implementing plans to seize Ukraine through economic aggression."

Yatsenyuk's comments come after Russia twice raised the price of gas for Kyiv in the past week, taking the cost for Ukraine from $285.5 per 1,000 cubic meters at the start of last week to $485.5 by the end of the week.

Ukraine's Energy and Coal Industry Minister Yuriy Prodan said attempts will continue to reach an acceptable gas price with Russia, but if that fails Kyiv will take the matter to an arbitration court in Stockholm.

Earlier on April 5, Russian gas giant Gazprom said Ukraine must pay back $11.4 billion the country saved as part of a discount agreement that Moscow recently scrapped.

Gazprom Chief Executive Aleksei Miller said that under the terms of the "Kharkiv Agreement" signed in 2009, Ukraine was able for the last four years to receive Russian gas at discounted rates.

Miller said that discount was a prepayment for the Russian Navy's use of Ukraine's Black Sea port of Sevastopol through 2017, which was part of the agreement.

Appearing on the Rossia-24 television channel, Miller said that since that port had been annexed by Russia, along with the rest of Crimea, Ukraine should return the money it saved for gas shipments under the lower rate.

"From the time the discount came into effect, the discount has come to $11.4 billion. This is the sum that was not received by the Russian government, by Russia's budget," Miller said. "This is the debt incurred by Ukraine to the Russian Federation, to the Russian budget. And from the point of the Russian government there is a question now about the necessity of finding a way to pay off this debt."

Miller also questioned the technical possibilities of reversing the flow of gas through pipeline systems and redirecting supplies from European Union countries to Ukraine.

Miller said the idea of reversing the flow of gas in Europe would be difficult, since Europe's gas pipelines currently take gas from the east and send it west.

Miller said if it's possible to redirect Russian gas coming into Europe back toward Ukraine then there are legal questions that need to be answered.

While Russia raised gas prices for Ukraine $485.5 per 1,000 cubic meters, EU countries are still paying just under $400 for supplies of Russian gas.

With reporting by Reuters, AP, AFP, ITAR-TASS, Rossia-24, and Interfax