'Deveiling' Drive Moves To Uzbekistan's Capital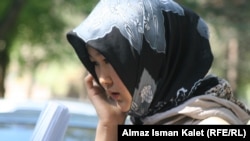 Uzbek authorities are removing more head scarves from more women in deveilings as the "hudjum" campaign has moved westward to the capital, Tashkent.
Qishloq Ovozi, working with RFE/RL's Uzbek Service, known locally as Ozodlik, has reported here and here on the hudjum in Uzbekistan's section of the Ferghana Valley.
Sources in Uzbekistan told Ozodlik the first such raid in the capital took place on June 5 at the Quyluk Bazaar in Tashkent's Bektemir district. Police arrived and detained women wearing the hijab, or Islamic head scarf, and took them to the district police station.
One person told Ozodlik that people are unhappy over the detentions but that "no one can do anything to defend them (the women), since everyone knows they themselves could be taken to the police station."
Ozodlik contacted someone in the Tashkent branch of the Interior Ministry who provided some interesting information about the campaign there.
Naturally, the source, and the other people who spoke to Ozodlik, prefer not to be named since "they themselves could be taken to the police station" -- or worse.
The source said special units have been formed, drawing on personnel from several departments, and they have been tasked with hunting down and detaining women wearing the hijab.
Once detained, the source said, there are two ways of dealing with such women.
Those who agree to remove their head scarf are released "after a conversation."
Those who refuse are transferred to the counterterrorism department, where they are lectured about the error of their ways. Then the counterterrorism force calls the detainees' husbands or fathers to come to the police station and convince the women to obey the police.
People told Ozodlik that in addition to the Quyluk Bazaar itself, there are two special checkpoints nearby where authorities are on the lookout for women with Islamic headwear.
The Interior Ministry source told Ozodlik that some of the Tashkent police are unenthusiastic about carrying out the new orders and in private conversations are questioning the sense of this hudjum.
-- Bruce Pannier, with contributions by Farruh Yusupov of RFE/RL's Uzbek Service
About This Blog
Qishloq Ovozi is a blog by RFE/RL Central Asia specialist Bruce Pannier that aims to look at the events that are shaping Central Asia and its respective countries, connect some of the dots to shed light on why those processes are occurring, and identify the agents of change. Content will draw on the extensive knowledge and contacts of RFE/RL's Central Asian services but also allow scholars in the West, particularly younger scholars who will be tomorrow's experts on the region, opportunities to share their views on the evolving situation at this Eurasian crossroad. The name means "Village Voice" in Uzbek. But don't be fooled, Qishloq Ovozi is about all of Central Asia.
Latest Podcasts