Rare Victory For Uzbek Rights Activist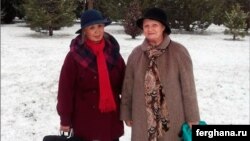 In what is being described as a "first," one of Uzbekistan's highest courts has agreed to consider a complaint from a rights activist against Uzbek police. After several attempts to file her case in other courts, Adelaida Kim's complaint will now be reviewed by Uzbekistan's Constitutional Court.
Kim's legal case stems from an incident that occurred on May 13 last year, the eighth anniversary of the tragedy in Andijon, in which, officially, nearly 200 people were killed and, unofficially, as many as five times that number lost their lives.
On the morning of the eighth anniversary of Andijon, Kim and the leader of the Rights Defenders Alliance of Uzbekistan, veteran activist Yelena Urlaeva (who is, in my opinion, probably the bravest woman in Uzbekistan), went to lay flowers at a monument to the Andijon victims in Tashkent. For several years now, it's been traditional for rights activists (the few that still remain in Uzbekistan) to mark the date.
When Kim and Urlaeva finally left the monument, they were stopped a few meters down the road by policemen in civilian clothes who forcibly put the two rights activists in a car and took them to Tashkent's Mirzo-Ulughbek police station. The policemen never explained why they were detaining the two women and kept them at the police station until evening before letting them go.
Kim filed a lawsuit with the Mirzo-Ulughbek court, alleging arbitrary detention by the police. She cited Article 44 of the Uzbek Constitution, which says, "Everyone shall be entitled to legally defend his rights and freedoms, and shall have the right to appeal any unlawful action of state bodies, officials and public associations."
After several months, the Mirzo-Ulughbek court declined to hear the case. Kim continued filing the case with other courts, going all the way to the country's Supreme Court and always with no success.
On the last day of January, the Constitutional Court, Kim's last chance really, surprisingly agreed to review the lawsuit. Judge Fotima Husanova reportedly looked at Kim's documents for a mere 20 minutes before ruling that the case merited the court's review.
In the end, Kim might not receive any satisfaction from the Constitutional Court either, but Urlaeva said the court's agreement to review the case was a "unique event."
RFE/RL's Uzbek Service, Radio Ozodlik, investigated how unique it actually was and, at the very least, it can say that this is the first reported case where a lawsuit continually rejected by lower and higher courts was suddenly accepted at such a high level as the Constitutional Court.
For six years, I wrote the section on Uzbekistan for Freedom House's annual
"Nations In Transition" report
(all NIT reports have chapters on "Civil Society" as well as "Judicial Framework and Independence") and I don't remember anything like this ever happening in Uzbekistan.
We'll follow Kim's progress in a future report.
-- Bruce Pannier with contributions from Oktambek Karimov of RFE/RL's Uzbek Service
About This Blog
Qishloq Ovozi is a blog by RFE/RL Central Asia specialist Bruce Pannier that aims to look at the events that are shaping Central Asia and its respective countries, connect some of the dots to shed light on why those processes are occurring, and identify the agents of change. Content will draw on the extensive knowledge and contacts of RFE/RL's Central Asian services but also allow scholars in the West, particularly younger scholars who will be tomorrow's experts on the region, opportunities to share their views on the evolving situation at this Eurasian crossroad. The name means "Village Voice" in Uzbek. But don't be fooled, Qishloq Ovozi is about all of Central Asia.
Latest Podcasts